By Emily Chang
CNN Correspondent





BEIJING, China (CNN) -- At a foster home on the outskirts of Beijing, 13 special-needs children are waiting to be adopted. Our crew walked in as they were waking up from their afternoon nap, with sleepy eyes and little yawns that quickly turned into smiles.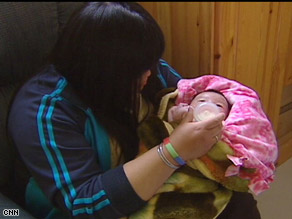 A woman feeds a special-needs baby who is up for adoption at a foster home in China.
They range in age from 1 month to 5 years old. There is little Xiao Mei, who was born with heart disease. She has had one surgery and will need another soon. Others were born with missing limbs, dwarfism, spina bifida, a cleft palate. One infant is blind and deaf.
They seem to have just as much energy as any other child. One boy, a 5-year-old with dwarfism, was fascinated with our video camera and entertained himself by wearing the accompanying headphones. We were in the middle of shooting when another girl ran over and lifted her arms to my waist. She just wanted to be picked up, to be held.
Children's Hope International, an adoption agency, founded the home in 2004 to help poor families who cannot afford to care for their ill or disabled children. Since 1992, the agency said, it has placed more than 3,500 Chinese babies with adoptive families.
The adoption landscape for these children -- and many others in China -- is changing.
The Chinese government imposed new regulations in 2007 to limit the number of international applications, putting more restrictions on prospective parents from outside China. The rules basically say you need not apply if you are single, overweight, deformed, taking antidepressants or poor. China has said the rules are in the best interest of the child.
After leading the world in international adoptions, adoptions in China are slowing down, though it is not clear whether there is a link to the new rules. According to the U.S. State Department, Americans adopted 7,906 Chinese children in 2005, a number that dropped to 3,909 children in 2008.
Don't Miss
However, Melody Zhang of Children's Hope International said it is not that fewer people want to adopt, but there are simply more Chinese and foreigners who want to adopt and fewer children up for adoption. However, the government does not release data on the numbers of children up for adoption in the country.
"In the past, Chinese people would not consider adopting someone out of the family, but more and more people are educated, and they understand the important part is to raise the child, not necessarily a blood tie," Zhang said.
The Asian giant's growing economy has given more people the means to raise a child, so Chinese parents are less likely to give up their children.
It has also become more socially acceptable to have daughters. In the past, Chinese rural families have sometimes been known to put daughters up for adoption so they can try for a son in a country where most people are allowed to only have one child.
Zhang estimates that there are 30,000 international applications waiting to be processed in China. These days, the wait can be up to five years.
The process can be faster for parents who want to adopt a special needs child, just like the ones we met at the Children's Hope International orphanage.
That is what one American couple, Chris and Tammy Watkins, decided to do. They have three daughters but want a fourth. They live in Beijing and have spent a lot of time working in foster homes, especially with special-needs children.

They waited almost three years but a few weeks ago found out that they had been matched with a child. A 3-year-old girl is waiting for them in an orphanage in Nantong, in southeast China. She had some minor operations when she was born but is now a healthy little girl. They hope to meet her within a month.
"At first it starts out, 'I could help them.' And the more time you spend with them is, they are just great kids," Tammy Watkins said. "They need a family to love them, and that's all they need."
E-mail to a friend

All About China