ISLAMABAD, Pakistan (CNN) -- Pakistan, the United States and Afghanistan will hold trilateral meetings in Washington next month.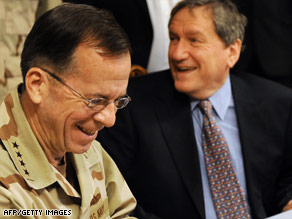 The top U.S. military officer, Mike Mullen, left, and envoy Richard Holbrooke share a laugh Tuesday in Pakistan.
U.S. special envoy to the region Richard Holbrooke announced the talks at a news conference Tuesday with Pakistan's Foreign Minister Mahmood Qureshi.
"The United States and Pakistan face a common strategic threat, a common enemy and a common challenge and therefore a common task," Holbrooke said.
"We have had a long and complicated history, our two countries, and we cannot put the past behind us but we must learn from it and move forward."

Watch assessment of Holbrooke's Pakistan trip »
Holbrooke arrived in Islamabad on Monday.

The top-ranking U.S. military officer, chairman of the Joint Chiefs of Staff Adm. Mike Mullen, was also present at Tuesday's news conference. He said he is holding talks with Pakistan's military chief, Gen. Ashfaq Pervez Kiyani.
"We want to assist them [the Pakistani military] in a critical transformation of a part of their armed forces to deal with the new emerging threat in the western areas," Mullen said.
E-mail to a friend

CNN's Zein Basravi contributed to this report
All About Richard Holbrooke • Pakistan • Afghanistan • Afghanistan War