By Kenneth Musante
CNNMoney.com





NEW YORK (CNNMoney) -- Alcoa said Tuesday it swung to a wider-than-expected first-quarter loss, as the aluminum producer blamed the continuing economic downturn and a "historic decline" in metal prices.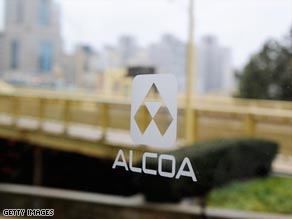 Sharp drop in revenue caused by recessionary effects on automotive, construction and aerospace industries.
The Pittsburgh-based company posted a loss of $497 million, or 61 cents per share - its second quarterly loss in a row. Last year Alcoa made a profit of $303 million, or 37 cents per share a year ago.
Excluding a loss from discontinued operations, Alcoa lost 59 cents per share, which was more than the 56 cents per share expected by analysts surveyed by Thomson Reuters, who usually excludes special items.
Revenue fell 41 percent to $4.15 billion from $7 billion in the year-earlier quarter. Analysts had forecast sales of $4.08 billion.
The company said the sharp drop in revenue was caused by the recessionary effects on its end markets: the automotive, transportation, construction and aerospace industries. Meanwhile, it said metal prices are now about 60 percent lower than last summer.
Falling aluminum prices are the biggest problem for the producer, according to Charles Bradford, an analyst with Bradford Research.
"They did an excellent job it appears on cost-cutting," but it may not be enough, he said.
Last month, Alcoa said it is slashing its dividend by 82 percent to 3 cents a share as part of a series of cost-cutting measures that the company hopes will save $2.4 billion by 2010. Other measures include cutting procurement and production costs.
Alcoa is the first Dow component to release its first-quarter report, and its early numbers can help investors gauge how the economic crisis will impact businesses.
Shares of Alcoa dropped 1.5 percent in after hours trading.
E-mail to a friend