(CNN) -- Japan is expected to extend economic sanctions against North Korea at a cabinet meeting later this week, a spokesman for Prime Minister Taro Aso said Monday.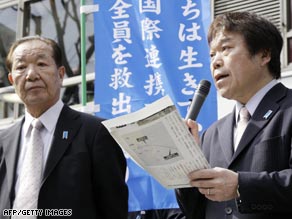 Family members of victims kidnapped by North Korea hold a rally in Tokyo.
Current sanctions, valid for six months, are due to expire April 13. Abduction is the driving factor behind the ongoing sanctions in Japan.
The communist nation has admitted to kidnapping Japanese citizens -- to teach its spies Japanese language and culture -- but it has insisted the issue was resolved with the return of some of those citizens.
The extension would happen in the wake of North Korea's launching of a rocket over the weekend amid international protests.
Don't Miss
The North Korean government insisted the act was a peaceful launch of a satellite into orbit, but a U.S. State Department spokesman declared it a "provocative act in violation" of a 2006 Security Council resolution prohibiting Pyongyang from conducting ballistic missile launches.
An emergency meeting of the U.N. Security Council concluded Sunday without an official reaction to the North Korean launch.

The first round of talks at the Security Council had been expected to end inconclusively, according to senior Obama administration officials.
The United States, Japan and South Korea are looking for a tougher statement than China and Russia, said the Obama administration officials, who anticipated resistance.
E-mail to a friend

All About North Korea • World Politics • Asia-Pacific Politics • United Nations