(CNN) -- American officials condemned the North Korean launch of a long-range rocket Sunday, with President Obama calling it a "provocative act."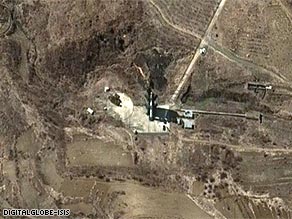 A recent satellite image shows a rocket sitting on its launch pad in northeast North Korea.
The rocket, a Taepodong 2, was launched at around 11:30 a.m. local time Sunday at a base in the northeastern part of the country.
The North Korean government characterized the act as a successful, peaceful launch of a satellite into orbit. American military sources, however, said the launch was a failure, adding that the rocket's payload cleared Japanese airspace but failed to enter into orbit.
"Stage one of the missile fell into the Sea of Japan. The remaining stages along with the payload itself landed in the Pacific Ocean," according to a statement from the North American Aerospace Defense Command and the Northern Command, read by White House press secretary Robert Gibbs.
Obama said the launch was "a clear violation of United Nations Security Council Resolution 1718, which expressly prohibits North Korea from conducting ballistic missile-related activities of any kind."

Watch rocket's path over Japan »
"With this provocative act, North Korea has ignored its international obligations, rejected unequivocal calls for restraint, and further isolated itself from the community of nations," Obama said. "We will immediately consult with our allies in the region, including Japan and [South Korea], and members of the U.N. Security Council to bring this matter before the Council," Obama added. "I urge North Korea to abide fully by the resolutions of the U.N. Security Council and to refrain from further provocative actions."
North Korea's news agency, KCNA, said that "scientists and technicians of the DPRK [Democratic People's Republic of Korea] have succeeded in putting satellite Kwangmyongsong-2, an experimental communications satellite, into orbit by means of carrier rocket Unha-2 under the state long-term plan for the development of outer space."
Don't Miss
South Korean Foreign Minister Yoo Myung-Hwan said Sunday: "For the time being it is believed that North Korea launched a satellite. But we have yet to determine whether it was a success or not."
It is unclear whether the rocket's payload was a satellite. The United States, South Korea and other nations fear the launch could serve as a test for a possible missile with a warhead attached.

Watch the effect a rocket launch could mean to global community »
Despite criticism by the U.S. and other nations, plans to launch the rocket had been applauded by political parties and organizations in various countries, North Korea's news agency reported Sunday.
A secretariat of the Communist Party of the Soviet Union blasted the United States on Tuesday for its "outrageous interference in the internal affairs" of North Korea, the agency reported.
Trade organizations in the Czech Republic also hailed the projected launch, the agency reported.
Bruce W. Bennett, a research leader at the California-based think tank RAND Corp., said the launch was an attempt by the North Korean leader to appear in charge.
"Kim Jong-il has been in big trouble internally. He's appeared weak. This is a big success for him. He needs some way to demonstrate to the elites that he's in charge and still a powerful and capable leader," Bennett said.

Watch more about Kim Jong-il's life »
Lt. Gen. Henry Obering, a retired Pentagon official who was the director of the U.S. missile defense agency, said the launch exposes a flaw in diplomacy efforts.
"This shows the folly of using just diplomacy and sanctions," Obering said. "In the interest of our self protection and our allies, I think we need to be prepared when those sanctions don't work."
In Washington, Democratic and Republican congressional leaders set aside their partisan divides in condemning North Korea's launch.
U.S. Rep. Howard Berman, chairman of the House Foreign Affairs Committee, issued a statement late Saturday.
"It is alarming that North Korea carried out this missile launch in direct defiance of the international community," Berman, D-California, said. "The test is an unnecessary provocation that raises tensions in the region, and I urge the North Koreans to stop using their missile and WMD programs to threaten their neighbors and the rest of the world."
An October 2006 United Nations resolution condemned North Korea for missile launches in the summer and a nuclear test that same month.
Senate Foreign Relations Committee Chairman John Kerry, D-Massachusetts, said that the North Korean regime's decision "is a provocative act that calls for a stern, unified response from the members of the six-party talks on the denuclearization of the Korean Peninsula."
He was joined by House Armed Services Committee Chairman Ike Skelton, D-Missouri, and Strategic Forces Subcommittee Chairwoman Ellen Tauscher, D-California, in calling for a strict enforcement of Security Council Resolution 1718, requiring all countries to cooperate on restricting North Korea's ability to pursue and deliver weapons of mass destruction.
Rep. Ileana Ros-Lehtinen, the ranking Republican on the House Foreign Affairs Committee, said that North Korea's "continued belligerence and contempt for its international obligations cannot go unanswered."
She said she'd introduce legislation requiring economic and diplomatic sanctions to remain in place until the North Korean regime abandons its weapons programs and addresses concerns over its human rights record.
Senate Minority Whip Jon Kyl, R-Arizona, called the launch "another reckless display by one of the world's most brutal and dictatorial regimes."

In a written statement, Kyl argued that the launch shows that "missile defenses against threats from rogue regimes are more important than ever," and urged Obama to fully fund the Pentagon's missile defense program.
Obama denied reports last month of a U.S. offer to kill the program in exchange for Russian assistance in preventing Iran's acquisition of nuclear weapons.
E-mail to a friend

All About Barack Obama • North Korea • Kim Jong-il