From Samira Simone
CNN





(CNN) -- By all accounts, North Korea launched a long-range rocket on Sunday, ignoring international warnings against doing so. The question is: Where's the payload?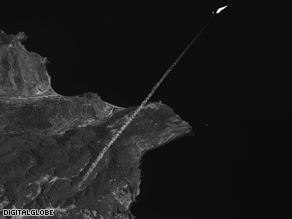 A satellite picture shows an apparent rocket launch on the Musudan-ri coast of North Korea on April 5.
According to North Korea's official media, not only did the country successfully send a communications satellite into orbit, but "it is sending to the Earth the melodies of the immortal revolutionary paeans 'Song of General Kim Il Sung' and 'Song of General Kim Jong Il.'"
The United States, while accusing the reclusive nation of taking provocative action with a long-range missile, called the launch a failure, saying the rocket's payload failed to enter into orbit.
Officials from the North American Aerospace Defense Command (NORAD) and the U.S. Northern Command said the payload cleared Japanese airspace, but later fell into the Pacific Ocean.
"Stage one of the missile fell into the Sea of Japan. The remaining stages along with the payload itself landed in the Pacific Ocean," according to a statement from NORAD and the Northern Command, read by White House Press Secretary Robert Gibbs.
"No object entered orbit and no debris fell on Japan," the statement said, adding that NORAD and the Northern Command assessed "the launch vehicle as not a threat to North America or Hawaii and took no action in response to this launch."
Don't Miss
Takeo Kawamura, Japan's chief cabinet secretary, told reporters that his country's military was not forced to intercept any missile, which it had pledged to do if necessary. Japanese ships were moving to the areas they believe parts of the rocket fell in an effort to retrieve them, Japanese government officials added.
The launch -- which occurred at about 11:30 a.m. Sunday (2:30 a.m. GMT) -- set off an immediate firestorm of criticism, inflamed tensions in the Far East, and heightened fears over the North Korean regime's potential ability to undermine nuclear non-proliferation efforts.
The North Korean government insisted the act was a peaceful launch of a satellite into orbit, but a U.S. State Department spokesman declared it a "provocative act in violation" of a 2006 Security Council resolution prohibiting Pyongyang from conducting ballistic missile launches.

Meanwhile, the state-run Korean Central News Agency reported that North Korean leader Kim Jong-Il expressed that he was pleased with the launch.
"Expressing great satisfaction over the fact that scientists and technicians of the [North Korea] successfully launched the satellite with their own wisdom and technology, he highly appreciated their feats and extended thanks to them," the agency said.
E-mail to a friend

All About North Korea • World Politics • Asia-Pacific Politics • United Nations