KABUL, Afghanistan (CNN) -- Amid mounting pressure from the West, Afghan President Hamid Karzai says his government will review a recently approved version of a law that critics say legalizes marital rape and the U.S. president has called "abhorrent."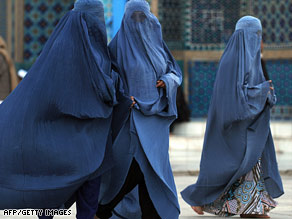 Recently approved version of law also mandates that a woman ask a male relative to leave the house.
"We understand the concerns of our allies in the international community," Karzai told reporters Saturday.
The minister of justice would study the draft, he said.
"If there is anything that is of concern to us then we will definitely take action in consultation with our [religious clerics] and send it back to the parliament," Karzai said. "This is something that we are also serious about and we should not allow."
Karzai's news conference was in response to a series of news reports by Western media since the president signed the law last month.
He specifically mentioned a March 31 story by London-based The Independent, which called the law "a massive blow for women's rights" and cited critics who said Karzai "rushed" the bill through parliament in hopes of appeasing Islamic fundamentalists ahead of August elections.
Human rights groups and news reports consistently refer to a report from the U.N. Development Fund for Women which reportedly stated that the legislation -- a piece of sharia law, or Islamic law -- that affects the Shiite community in the predominantly Sunni nation "legalizes the rape of a wife by her husband" by allowing men to force sexual intercourse on their spouses.
Don't Miss
Shiites make up roughly 10 percent of Afghanistan's population.
Western leaders attending a NATO conference Saturday also signaled their disapproval of the legislation.
"I think this law is abhorrent," U.S. President Obama said in Strasbourg, France. "We think that it is very important for us to be sensitive to local culture, but we also think that there are certain basic principles that all nations should uphold, and respect for women and respect for their freedom and integrity is an important principle."
French President Nicolas Sarkozy and German Chancellor Angela Merkel agreed, with the latter saying, "We very much hope that the draft piece of legislation is to be withdrawn."
The law was drafted by Afghanistan's conservative lawmakers after spending more than a year off and on the parliament's daily agenda. Shia Muslims have been practicing their form of Islam for centuries in Afghanistan, but this law allows them to preserve their identity among the majority Sunni population, one parliamentarian said.
Among its provisions are that women must ask a male relative to leave the house.
"What my fear is, women and children of Afghanistan are always the victims of political games," Afghan lawmaker Fawzia Koofi told CNN in a recent interview. "I mean, they don't have a gun to fight, they cannot create a mess."
Koofi, and other critics of the law, hope that the supreme court will rule that the legislation is at odds with the Afghan constitution, which promises equal rights to all citizens -- male or female.

Watch Hamid Karzai's comments »

Still, despite the international outcry against the bill, many in Afghanistan remain unaware of it. Support can be found among those who do, especially the Shiite population.
"Shia people are in Afghanistan," Shia resident Mohammad Zahir said. "They are a part of Afghanistan and there needs to be a law that they go by and follow."
E-mail to a friend

CNN's Atia Abawi in Kabul contributed to this report.
All About Hamid Karzai • Afghanistan • Barack Obama • Angela Merkel