KABUL, Afghanistan (CNN) -- Afghan soldiers killed 20 armed militants in southern Afghanistan, the U.S. military said Thursday.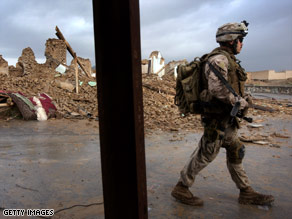 A U.S. Marine patrols with his squad Wednesday in the Afghan province of Helmand.
The fighting took place Wednesday in Kajaki District of Helmand province.
Afghan national army troops backed by coalition forces were conducting combat reconnaissance when dozens of armed militants wielding small arms and grenades attacked a foot patrol.
Troops returned fire and called in air support. There were no other casualties reported.
Southern Afghanistan has been a major front in the fight between Taliban militants and Afghan and international troops.
On Wednesday, five Taliban militants attacked a provincial council complex in Kandahar, killing at least 13 people. At least 30 militants were killed and 17 were wounded this week during a U.S.-Afghan operation in Uruzgan, another southern province.
The violence rages as President Obama announced a new plan to fight al Qaeda and the Taliban in Afghanistan and Pakistan. More troops, new legislation, improved troop training and added civilian expertise highlight his new strategy.
Secretary of State Hillary Clinton laid out the strategy at a conference Tuesday at The Hague, Netherlands, and endorsed Afghan plans to hold reconciliation talks with moderate members of the Taliban.
E-mail to a friend

All About Afghanistan • The Taliban • Al Qaeda