(CNN) -- South Korean and European Union trade officials reached a tentative free-trade accord and will seek to finalize the deal in early April, Yonhap news agency cited chief negotiators from both sides as saying Tuesday.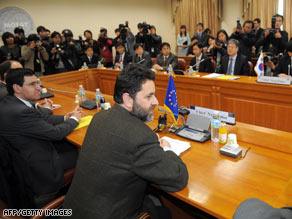 EU chief negotiator Ignacio Garcia Bercero (C) and S. Korean counterpart Lee Hye-Min (R) in Seoul Monday
The EU's chief negotiator, Ignacio Garcia Bercero, described the deal as the "most ambitious" the EU has negotiated with an external partner, Yonhap reported.
The talks between Asia's fourth-largest economy and the world's single-largest economic bloc began in May 2007, with auto trade and industrial tariffs posing initial roadblocks, according to Yonhap.
The two sides have tentatively agreed to abolish or phase out tariffs on nearly all goods within three years and on all industrial goods within five years, Yonhap reported.
Also near agreement is allowing goods made at a South Korean-North Korean industrial complex in North Korea to receive duty-free status in the European market, Yonhap reported.
The talks had been scheduled to last through Tuesday, but an official announcement of a deal hadn't been expected to be made until a worldwide economic summit early next month in London, South Korean officials had said.
Heads of state and financial chiefs from the Group of 20 nations are to meet in the British capital on April 2. The countries of the G-20 represent 85 percent of the world's gross domestic product.
E-mail to a friend

All About North Korea • South Korea