By Harmeet Shah Singh
CNN





NEW DELHI, India (CNN) -- The main suspect captured alive in last year's Mumbai terror attacks told an Indian court Monday that he is a Pakistani national and asked that a lawyer be appointed for him, prosecutors said.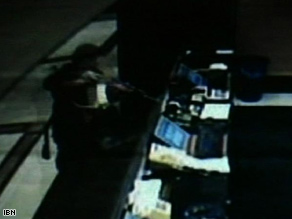 A surveillance video appears to show a gunman shoot at a desk in the Hotel Trident in November.
The Mumbai attacks last November left more than 160 people dead and fueled renewed tensions between Pakistan and India. The Indian government has long said that the three-day siege in November was carried out by Lakshar-e-Tayyiba, a Pakistan-based militant group.
India has urged Pakistan to destroy what it called terrorist infrastructure in that country.
The two South Asian countries are longtime rivals who have fought three wars since independence and conducted tit-for-tat nuclear weapons tests in 1998.
The suspect, Mohammad Ajmal Kasab, also asked the judge to provide a lawyer for him, special public prosecutor Ujjwal Nikam told CNN.
"Kasab told the court he would like to have a lawyer from the legal-aid committee," Nikam said.
The alleged gunman spoke with the judge via videolink from a Mumbai jail during the hearing on Monday.
His next court date was set for March 30, Nikam told CNN, when Kasab will also appear by video.
Don't Miss
Prosecutors have asked for a two-week adjournment because they say a special cell and other infrastructure required to link Kasab with the court are not fully ready yet.
Nikam said the court is expected to rule on the request at its next sitting, on March 30.
The court lifted some media restrictions Monday, saying there was no bar on reporting "actual proceedings," according to the prosecutors.
Reporters will now be allowed into the courtroom, but will still not be able to bring cameras in. Journalists had previously been banned and had to rely on briefings by lawyers.
But broadcast of any video or telephone conversations purportedly related to the attack scene remained banned, Nikam said.

The court also called upon the media to exercise "self-restraint" when the prosecution cited news reports detailing security arrangements being put in place for Kasab, he added.
Two other people have been held in connection with the attacks -- Indians who are accused of assisting the attacks, not gunmen themselves.
E-mail to a friend

All About Mumbai