(CNN) -- The International Committee of the Red Cross has said it is "extremely worried" about the fate of three aid workers kidnapped in the Philippines in January.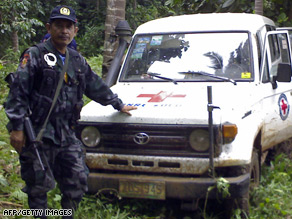 Police recover the abandoned vehicle of the Red Cross workers on Sulu in January.
The ICRC said Wednesday the kidnappers had made "direct threats." It did not provide details on those threats.
Mary Jean Lacaba, Eugenio Vagni and Andreas Notter were seized by armed men riding motorcycles January 15 on the island of Sulu, the ICRC has said. The aid workers were in the region to inspect a provincial prison and were on their way to the island's airport when they were taken, the ICRC has said.
Both the ICRC and the Philippine National Red Cross are in constant touch with the authorities about resolving the abductions.
"The ICRC and the Philippine National Red Cross are also appealing to the abductors' sense of humanity and asking them to avoid taking any action that could endanger the lives of Mary Jean, Eugenio and Andreas," the ICRC said Wednesday. "They are renewing their call for the immediate and unconditional release of the three ICRC staff members."
The ICRC has visited the hostages at least once and has spoken to them while in captivity, the aid group has said.
Several Islamic militant groups, some with ties to al Qaeda, are active in the southern Philippines. It is unclear who is responsible for the abductions.
Sulu is in the far southwestern part of the Philippines.
E-mail to a friend