(CNN) -- A bull run on Wall Street put a spark in Asian markets Wednesday, pushing them solidly into positive territory.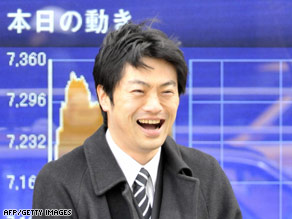 A businessman is all smiles on Wednesday as he passes by a share prices board in Tokyo.
Tokyo's Nikkei average closed 4.6 percent higher and the All Ordinaries index in Australia gained 1.8 percent. In Seoul, the KOSPI picked up 3.2 percent, while Hong Kong's Hang Seng index was showing a 2.9 percent gain.
Wall Street stocks rallied Tuesday, with all three major indexes logging their biggest gains of the year as Citigroup cooled some worries about its future.
The Dow Jones industrial average gained 379 points, or 5.8 percent. It was the Dow's biggest one-day point and percentage gain since November 24, 2008.
The Standard & Poor's 500 index gained 43 points, or 6.4 percent. It was the biggest one-day point gain since Dec. 16, 2008, and biggest on a percentage basis since Nov. 24, 2008.
The Nasdaq composite climbed almost 90 points, or 7.1 percent. It was the biggest one-day point gain since Nov. 13, 2008, and biggest percentage gain since October 28, 2008.
"Today's rally was very welcome news from a market that's gone nowhere but down over the last several months," said Michael Sheldon, chief market strategist at RDM Financial Group.
Don't Miss
He said the advance was strong in terms of the number of stock advancers vs. decliners, as well as trading volume. Looking ahead, one issue is that many sellers will want to sell into strength, he said. But for the time being, stocks could manage more gains.
"Overall, we are oversold here and there is still a lot of pessimism in place that could fuel a rally," he said. Extreme pessimism can be good for a rally from a contrarian perspective.
Citigroup's chief executive said the company was profitable in the first two months of the year and expressed optimism about its capital position going forward. Shares of the hard-hit bank jumped 38 percent, leading a broader financial sector rally.
Stocks were also bouncing Tuesday after the recent bloodletting in the markets.
Year-to-date, the Dow and S&P 500 had both fallen 25 percent as of Monday's close, while the Nasdaq had fallen about 17 percent. The market close Monday left the Dow and S&P 500 at 12-year lows and the Nasdaq at six-year lows.
In light of the huge selloff, analysts have been saying for a while that the market was due for a sharp rally. That seemed to take hold Tuesday.
"There's a chance that if this gets enough gas, it could move up a lot more," said Tom Schrader, managing director at Stifel Nicolaus. That turned out to be the case last fall after the stock market hit lows in October and November.

"There's tons of cash sitting in money markets and if people start to think they're going to miss out, they're going to want to jump back in," Schrader said.
In other global trading, European stocks posted solid gains on Tuesday.
E-mail to a friend

All About Financial Markets • Wall Street • Asia-Pacific Markets