(CNN) -- An off-shoot of the Jane Goodall Institute is Roots & Shoots, a youth group that promotes positive environmental change.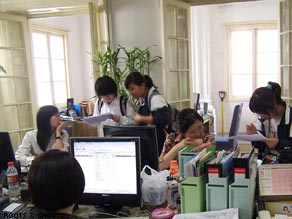 How green is your company? Roots & Shoots students want to find out.
In China some its members have embarked on a green audit program, promoting energy efficiency in schools and offices of multinational corporations. Started in 2006, the program has visited over 120 companies, including FedEx, Microsoft and IBM.
Micah Tsao, from Shanghai Finance University, is one student who was sent to evaluate a company on its green performance.
"Volunteering in an eco-audit program is really enjoyable," she told CNN.
"We are making a positive difference, and the best we can hope is that our activities will enable people to have a better utilization of resources that will help both companies and the protection of the environment."
Darcie Goodwin from FedEx was involved in organizing the Roots & Shoots eco-evaluation program in their China offices.
Don't Miss
"The eco-audit program helped FedEx Express in China increase awareness of the green practices our office can implement and ways we can save energy. We were happy to learn that we already had quite a few green practices in place, such as printing two sided copies, turning off lights, and having plants," said Goodwin.
"We shared the results of our audit with our offices throughout China along with tips on ways to conserve energy. Moving forward, we are having our annual review in May and look forward to seeing how we have improved over the year."
Tsao was also happy to find that staff in the offices she visited were receptive to Roots & Shoots ideas.

"In most cases, staff shows big interests in how to be more eco-friendly. And they are very willing to play their part one step at a time by changing their daily little actions.
"The reason why there is a lot of improvement needed in most offices is not because people deliberately waste energy or neglect environmental protection but indeed because they lack opportunities to learn the right skills," said Tsao.
E-mail to a friend