(CNN) -- Sri Lanka's Australian-born coach Trevor Bayliss has backed up criticism of security in Lahore after being caught up in the terror attacks which left eight dead last week.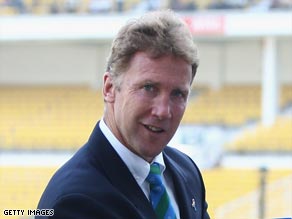 Match referee Chris Broad said players and officials were "sitting ducks" in Lahore.
Bayliss was returning home for the first time since six of his team were injured after their coach was sprayed with bullets on the way to the third day's play in the second Test against Pakistan.
Speaking to reporters in Sydney, Bayliss questioned why security appeared less rigorous in the Punjab capital than it had been elsewhere on the tour.
"In Karachi we had the small trucks out the front and some behind but we also had a truck either side of us with guys standing up through the roof with a fixed machine gun on either side," Bayliss said.
"That wasn't there in Lahore so there was probably a little bit less in Lahore than in Karachi and definitely less than what was seen when we were there for the one-day series a month before," he added
Bayliss' comments come after outspoken criticism of security by English match referee Chris Broad and Sri Lankan Test star Muttiah Muralitharan.
Pakistan cricket chief Ijaz Butt has threatened to report both men to the Intentional Cricket Council over their "fabricated" remarks, but Bayliss has backed them up and voiced fears for the wider future of sport on the sub-continent.
"There's some big questions to be asked by the governing bodies of all the sports, not just cricket," Bayliss said.
"From the terrorists' point of view, they know no boundaries. "It doesn't matter if you're a person in the street or a sportsman or a politician -- they're just after the biggest, widest audience they can get."
Later on Tuesday, organizers of the lucrative Indian Premier League (IPL) said they were stepping up security ahead of their six-week tournament which starts in May.
The terror attacks in Mumbai and Lahore have led many to question whether the IPL can go ahead with star England batsman Kevin Pietersen saying at the weekend that he had doubts over playing for the first time,.

But IPL chairman Lalit Modi said his organization would now take overall responsibility for the safety of all eight teams.
In last year's inaugural tournament each of the eight franchises were individually responsible for their own security arrangements.
E-mail to a friend