From Stan Grant
CNN





LAHORE, Pakistan (CNN) -- Eleven-year-old Hassanin stares at a photo of his uncle in quiet disbelief that the man in the picture lost his life just two days ago.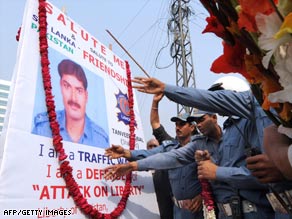 Fellow officers pay tribute to Tanveer Iqbal, one of six policemen killed in Tuesday's attack.
"He was big man, healthy," the boy says in halting English. "My uncle, very good policeman, I miss him. My heart is broke."
Tanveer Iqbal, 27, was one of six Pakistani police officers who lost their lives Tuesday while protecting the visiting Sri Lankan cricket team from a brazen, daylight attack. A bus driver also was killed when gunmen jumped out of bushes and began spraying bullets at the team's bus and other vehicles in a roundabout.
No team members were killed, although six suffered injuries from broken glass and shrapnel.
Iqbal, like several other Lahore policemen, was not carrying a weapon that day. In Pakistan, only police personnel who hold an officer's rank are allowed to carry guns. Armed elite Pakistani forces also were protecting the team.

Watch relatives grieve Iqbal's death »
British cricket official Chris Broad accused Pakistani police of abandoning the scene when the gunfire broke out.
"[There were] terrorists shooting past our van, sometimes into our van, and not a sign of a policeman anywhere," Broad told reporters at a news conference a day after the attack. "They had clearly gone, left the scene and left us to be sitting ducks."

Watch the gunmen during the attack »
Don't Miss
He never addressed how that assessment squared with the fact that Pakistani police bore the brunt of the casualties.
Broad's accusation has been rejected by Pakistan, and its cricket board said Thursday that it plans to lodge a formal protest against his comments with the International Cricket Council.
It also adds to the remorse that Iqbal's family feels as they try to cope with their loss.
Iqbal lived in the dusty outskirts of Lahore with his family, including his father and his brother, Nasr, who is also a policeman.
Nasr Iqbal said Pakistani police like he and his late brother simply do not have the firepower to repel terrorist attacks.
"He would go for training but he didn't have a weapon," Nasr Iqbal said of his brother. "If he had a weapon then maybe he could have done something more."

See where the attacks happened »
Iqbal's family is now left with the small reminders of his presence, including the flowers he attended to every day, the peacock he raised from a chick, and the shiny red motorbike that he loved to ride.

His father, Hassanin -- who shares a name with his grandson -- said he was proud of his son, who was very patriotic. He said Tanveer Iqbal's death is an honor for the country.
"He gave his life for the Sri Lankan cricket team," the elder Hassanin Iqbal said. "May Allah give him peace that he sacrificed his life for Pakistan."
E-mail to a friend