By Matt Ford
For CNN





(CNN) -- Most of us have grown used to conservation charities putting charismatic animals front and center of their fundraising campaigns.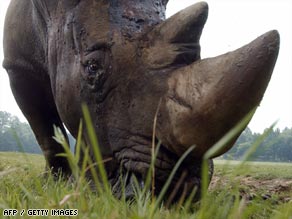 The "Save the Rhino" charity uses funds to promote the protection of communities and habitat where rhinos live.
But do NGOs separate the endangered species they campaign to protect from the ecosystems they live in? And, in an increasingly crowded world, how do they factor in human populations or global threats, like climate change?
"An ecosystem approach is critical to achieving sustainable conservation solutions," says Diane Walkington, Head of Species at the World Wildlife Fund.
Despite the organization's iconic links with large mammals such as the panda, their efforts now encompass much more.
"Certainly our roots started in specific species conservation projects," says Walkington. "But today we have a much wider portfolio of work."
The WWF's experience is typical, and in many ways, the two approaches of singles species and ecosystem work seem to have merged.
"I think that people sometimes make too much of the distinction," says Clive Hambler, lecturer in zoology at the University of Oxford. "In many cases you have to do both."
Hambler believes that is often hard to separate elements within an ecosystem and singling one out for conservation over another can sometimes have counter productive results.
However, in some cases it may be possible to isolate issues affecting a particular species.
The Californian Condor, for example, faces one set of threats, including crashing into power lines, while the landscape it inhabits is under different pressures. But, despite this apparent distinction, dealing with the birds in isolation is still difficult.
"There are legal complexities," says Hambler. "At one stage, all the world's California Condors were taken into captivity for protection and breeding, but it was feared this might expose the habitat to destruction -- for example by grazing -- if it no longer had a protected species in it, thus making future reintroduction to the wild problematic."
Underlying all this is the fact that ecosystems are enormously complex and unpicking them can be problematic. Even comparatively rare organisms, such as woodpeckers, may have a disproportionate effect on their environment, for example creating insect habitats by pecking holes in trees.
In response to this increasing awareness of the interrelated nature of the natural world, campaigning groups now work to balance a web of factors that all exert an influence on endangered species.
"Our approach has certainly matured and changed over the decades as scientific knowledge has grown," says the WWF's Walkington. "As well as the fact that threats themselves are growing and changing."
"For example, when we started our conservation efforts in 1961, it wasn't envisaged that, less than 50 years later, we would have reached such an unsustainable consumption level of natural resources such as forests and water, or such a high threat from other factors such as climate change," says Walkington.
"Increasingly conservation needs to include both the traditional species work, along with more widespread campaigns to reduce pollution, the unsustainable consumption of resources and climate change."
Even groups focusing on specific populations take a wider view.
"Of course we recognize the importance of ecosystem work," says Mark Simmonds, Director of Science at the Whale and Dolphin Conservation Society.
"But we also focus on individuals. We are in essence a protectionist organization and believe that every cetacean is precious. We see the two aspects as inseparable; two sides of one coin."
Because of the way humans interact with whales and dolphins, animal welfare is a specific concern. But there are other, global factors affecting the seas, such as climate change, pollution, ozone depletion and acidification, which are also important, and the group works to address them.
"When you look at a relatively enclosed system such as the Black Sea, you can really see what happens when the level of inputs -- pollution, overfishing -- reach a high enough level," says Simmonds.
"There has been an ecosystem 'flip', where comb jellies, also known as sea gooseberries, have replaced fish. This obviously has a huge effect on marine life, particularly cetaceans as top-level predators."
Interconnected issues
A similar lattice of interrelating factors also affects conservationists working on land, and untangling it can be a challenge.
In order to protect Africa's rhinos, the NGO Save the Rhino has found it essential to work with and engage local human communities. They are, after all, part of the ecosystem.
"It's actually a misconception that we spend money on rhinos -- we're not taking them for a makeover or anything," says Cathy Dean, Director of save the Rhino. "We spend on the groups that can protect them."
Save the Rhino believe that targeted anti-poaching work is essential. But so too is environmental education, outreach and building alternative economic activity, such as eco tourism, that will benefit both rhinos and the humans that live near them.
One area where this approach is already yielding good results is Laikipia, Kenya, home to half the country's black rhinos -- and 350,000 people.
According to Dean, Save the Rhino funds "tons of practical initiatives in the area", including wildlife management, security, tourism development, community conservation and environmental education programs.
"They achieve a tremendous amount," she says. "You can't just look at the rhino in isolation. You have to look at the area it lives in and the people that live there as well."
The ultimate goal is to create a self-sustaining system independent of external funding where humans and rhinos can thrive together. In turn there can be benefits for wider ecosystems from focusing on some single species.
According to Hambler, by saving certain "umbrella' species," which may migrate long distances or roam large territories, many smaller species can benefit. Focusing on iconic species may also help NGOs raise money to save the ecosystems they inhabit, which may be a far less appealing prospect -- if still critical for preserving bio diversity.
"The RSPB in Britain have managed quite a good balance of using flagship bird species such as the avocet and bittern, but taking a wide interest in habitats such as estuaries and reed beds," says Hambler. "Which might not have turned many people on!"
In the end, taking species out of their ecosystems may only be a useful exercise when carried out for marketing purposes.
"If we are looking at fundraising with the general public, then charismatic species conservation is important," says the WWF's Diane Walkington.
"We can legitimately hook this aspect into the overall ecosystem approach to give a wider picture of what we do."

Ultimately, in the wild, it's the holistic, ecosystem approach that will work.
Says Hambler: "If you want to save the bulk of the world's bio-diversity you have to save ecosystems."
E-mail to a friend

All About Endangered Species • Nature and the Environment