(CNN) -- The match referee hailed as a hero for shielding a wounded colleague during an attack by gunmen on the Sri Lankan cricket team has criticized Pakistani security forces for failing to protect players and match officials.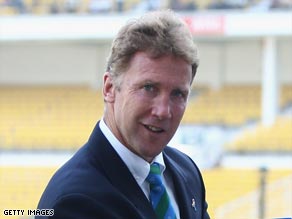 Match referee Chris Broad said security forces assigned to protect players and officials vanished during the attack.
Chris Broad, a former England international, said he and colleagues had been left to be "sitting ducks" after the driver of the minivan in which they were traveling was killed in Tuesday's ambush in Lahore. Six police officers also died in the attack.
Speaking at a press conference after his return to the UK, Broad said he had raised concerns about security before the start of the tour and had been assured that players and officials would receive "presidential-style security."
"I am angry at the Pakistani security forces," Broad said, according to the UK's Press Association. "We were promised high level security and in our hour of need that security vanished and they left us to be sitting ducks.
"When we were in the van we weren't aware of what was going on outside. But afterwards when you watch the TV pictures you can clearly see the white van we were in, in the middle of a roundabout and not a sign of a policeman anywhere."

Watch the bus driver credited with saving lives in the attack speak »
Broad said a policeman had eventually dumped the driver's body out of thee front seat and driven the officials to the stadium.
"At every junction from the hotel to where we were attacked there were police in uniforms with handguns controlling the traffic. How did the terrorists come up to the roundabout and start firing and these guys did nothing about it?" Broad said.
Broad was praised in the aftermath of the attack after it was reported that he had acted to protect fourth umpire Ahsan Raza who was critically wounded in the same hail of bullets that killed the driver.
But Broad said: "I'm not a hero. Ahsan Raza took a bullet to the stomach or chest -- somewhere in the spleen and lung region. I was lying behind him on the floor of the van and there were bullets flying all around us.
"I only noticed he was injured when I saw a large pool of blood had spilled on to the floor and out of the partially opened van door. He's just an umpire who loves the game."
Broad said the attack had probably sounded a "death knell" for Pakistani cricket, which had already been struggling to attract visiting teams because of security concerns.
"I don't know what the future holds for Pakistan cricket. They have a lot of very talented cricketers, and I feel sorry for the cricketers and for the cricket-mad public of Pakistan," he said.
"But this is a bit of a death knell for cricket in Pakistan and I feel sorry for those people. I can't see it going on for the foreseeable future.
"Ijaz Butt (the chairman of the Pakistan Cricket Board) has come out and said that friends will come to Pakistan but I don't think they have any friends in world cricket that will go to Pakistan after this has happened.
"Sri Lanka were a friendly country -- they wanted to go , they wanted to support Pakistan. I don't think they will be going back and certainly India, Australia, England, New Zealand, South Africa won't be keen."

Recalling Tuesday's attack, Broad said he hadn't slept since the incident.
"I was lying on van floor, there were bullets hitting the van, I don't know how many -- maybe as much as 20 to 25 bullets. It wasn't real to me, it's not a position I thought I'd ever find myself in. We all had the same feeling -- we were just waiting for a bullet to hit us."
E-mail to a friend