By CNN's Barry Neild





(CNN) -- The media are in place, thousands of fans watching and major stars present. It's not hard to see why sport makes a tempting target for terrorists and, say security experts, Tuesday's attack on Sri Lanka's cricket team could set the two worlds on a new collision course.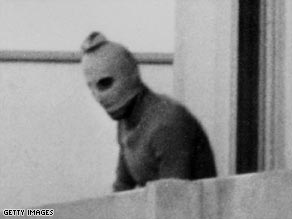 One of eight Palestinian terrorists behind the Munich Olympic killings of Israeli athletes.
At least seven people -- six police officers and a driver of a van carrying umpires -- were killed when a gang of 12 gunmen opened fire on a convoy carrying the Sri Lankan cricket team in the Pakistani city of Lahore that also left eight players and their coach injured.
The attack is not the first involving Pakistan's cricket world, a fact that reflects both the volatility of a country caught in the crossfire of an international terror conflict and also the game's prominence in South Asia, where passions for cricket regularly enter politics.
In 2002 a suicide bomb blast outside the New Zealand cricket team's hotel in the southern Pakistani city of Karachi left players unhurt but killed 11 French Navy experts, two Pakistanis and the team's physiotherapist.
The wider sports world has weathered more direct attacks, most notably the Munich Olympics of 1972 when 11 Israeli team members were held hostage then murdered by Arab militants demanding the release of various prisoners.
And in 1996, the Olympics were again targeted, this time by Eric Rudolph, a suspected member of an anti-abortion white supremacist sect, who detonated explosives killing two people and injuring 120 others in Atlanta, Georgia.
Ahead of the 2008 Games in Beijing, China deployed a massive security presence saying it had foiled a terrorist hijacking plot and warning it faced further threat in its Muslim-majority northwest -- although it did not produce evidence to back its claims.
The British government has already earmarked $840 million for policing and security for the 2012 London Games, with officials at pains to reassure over safety in a city where 52 people died in July 2005 terrorist attacks on its transit network.
But though the Olympics may be surrounded by a ring of steel, the many hundreds of events across the world that make up the annual sporting calendar represent much softer targets, and says security analyst Will Geddes, the potential for further attack is real.
Geddes, CEO of International Corporate Protection, says the fallout from Tuesday's incident will be watched with interest by terror groups looking for new ways of getting their message across with the greatest possible impact.
He told CNN that, unlike events such as Munich, which related to the already widely-publicized Israeli-Palestinian conflict, modern media coverage of sports events has the potential to put the spotlight on lesser-known radicals seeking to maximize exposure.
"These days in international terrorism small groups that want to get their agenda across to the widest audience are continually innovating in terms of the target and how to ensure they get the most publicity with as much embarrassment as possible for the country involved," he told CNN.
Says Geddes, although it remains unclear who is behind Tuesday's attack, it may already be viewed as a success by its perpetrators in terms of the global headlines it has garnered and the damage it has caused to Pakistan's reputation.
Such a result would be an attractive prospect to groups such as militants seeking to reignite conflict over the disputed region of Kashmir that has dogged Indian-Pakistani relations for decades -- and also disrupted sporting ties between the two nations.
"We can't rule out the possibility that this will happen again in the future. It has generated massive, massive publicity and bad press for the Pakistan government and it throws a question mark over future events and whether anyone will feel safe touring there."
E-mail to a friend