By Jaime FlorCruz
CNN Beijing Bureau Chief





BEIJING, China (CNN) -- When China's legislature opens its annual session this week, the focus will be on jobs, the economy and social stability.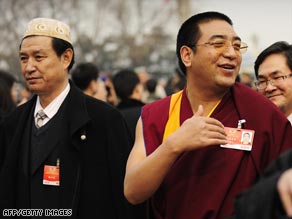 Delegates have begun to gather for China's annual meeting of its National People's Congress.
Every year, over 3,000 delegates to the National People's Congress meet in Beijing to review draft laws and vote on government budget and policies. Delegates come from central and local governments, the military and police, including ethnic minority representatives, who typically show up in their traditional costumes.
In the past, the NPC has been dismissed as a "flower-vase," a largely ceremonial rubber-stamp parliament which merely endorses Communist Party decisions. But in recent years, it has seen robust discussion and debate.
This year, the number one issue will be how to survive the global economic crisis and keep China's economy growing. As the global economic crisis cascades into China, Communist Party leaders fear a spike in unemployment could trigger social unrest and snowball into a political crisis.
"The NPC meeting this year will be all about the economy," says Drew Thompson, a China analyst at the Nixon Center in Washington. "Surviving the global financial crisis will depend on the effectiveness of the stimulus effort, and most importantly, keeping employment numbers up."
The unemployment picture already looks grim. The government officially says over 20 million migrants have lost jobs, laid off from thousands of factories which have closed down due to the steep drop in overseas demand for Chinese products. Analysts believe more jobs will be lost. This makes it more difficult for recent college graduates to find jobs.
Workers disgruntled over abrupt layoffs or unpaid arrears have staged scattered protests. Some of them have turned violent. Growing labor unrest alarms China's leaders who believe that social stability is necessary to improve the nation's struggling economy. Says NPC delegate Wang Diangui, "We need to ensure employment for migrants and new college graduates."
Premier Wen Jiabao says China is bracing up to meet the challenge.
"We'll do whatever it takes for to fight the crisis," he declared last weekend during his first-ever online chat with the Chinese Internet users.
"We must strengthen confidence in the face of the crisis and be ready to take firmer and stronger action when necessary."
China has already approved a $586 billion dollar stimulus plan, and there's talk of more. Wen is expected to flesh out details of the stimulus plan when he delivers the government work report, the equivalent of an annual state-of-the-nation address, at the NPC opening session on Thursday.
Wen cautions not to expect quick results. The global financial crisis has not yet hit rock bottom, he warns, and "we must fully realize we are facing a long-term and arduous task."
Economic analysts agree. "They have a lot of work," says Michael Pettis, an economics professor at Peking University. "China needs to make the transition from an export-oriented economy to a domestic market economy, and the historic evidence suggests that it is very, very difficult, and it takes a long time."
Wen is expected to propose an economic growth target of about 8 percent, modest compared to the double-digit growth rates that China has chalked up in recent years. Some economists believe China needs to maintain an 8 percent growth rate to keep unemployment in check.
The legislature will also consider a landmark Social Security legislation that would make health care, unemployment and retirement benefits universal, at least on paper. Such a system is deemed essential to instill a sense of long-term security among Chinese and entice them to consume more and save less. But experts believe it will have not served as a short-term economic stimulant.
Explains Peking University's Michael Pettis, "Even if they could put in the world's greatest security system and the world's greatest health services tomorrow, it will still take many many years of testing the system before it has the credibility to change household consumption patterns."
Other major budget initiatives include spending increases in public education, housing, environmental protection and energy conservation. Also on the agenda, more money for the modernization of China's military, a newly promulgated food safety law, and proposed legislation that would require officials to publicly declare their assets, part of the long-term campaign to combat graft and corruption. "Corruption can be prevented fundamentally only when power is restricted," Wen said in answer to questions on corruption.
Analysts say the success of China's stimulus package also depends on strict supervision of spending.
"Chinese leaders, particularly the local officials attending the NPC, will have to closely oversee the projects benefiting from Beijing's stimulus spending," says The Nixon Center's Drew Thompson.
"If they do a good job and the money is not wasted, jobs will be created and China will likely weather the financial crisis. If corruption and waste undermines the central government's plans, those leaders will increasingly have to deal with civil unrest."
In the short term, China's leaders are hunkering down to curb social unrest in a year filled with sensitive anniversaries. In March, there is the 50th anniversary of an aborted uprising in Tibet. In June, there is the 20th anniversary of the crackdown in Tiananmen Square. Perhaps Beijing leaders can heave a sigh of relief only after October 1, when China celebrates the 60th anniversary of the founding of the People's Republic with a grand military parade.
Meantime, this year's NPC congress is adopting austerity as its theme. The session will last for only nine days, making it the shortest in recent years. Mainland Chinese delegates will be barred from staying in five-star hotels and their food budget will be capped to 100 yuan per day per person.
E-mail to a friend