BEIJING, China (CNN) -- The man who successfully bid for two Chinese sculptures at auction and then refused to pay up is being called both a national hero and national embarrassment in China.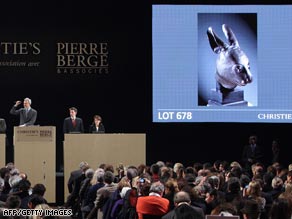 The bronze rabbit head is auctioned at Christie's.
Cai Mingchao bid about $40 million for the two bronze sculptures at an auction in Paris, France, of the late Yves Saint Laurent's collection.
He then refused to pay for them, claiming the sculptures belong to China.
"We've stood up and thankfully, I was given this opportunity, which I feel is my responsibility," said Cai, who works for China's National Treasures Fund. "What I want to stress is I will not pay for this bid."
It was not clear if Cai was acting on his own or with the government's authority.
On the front pages of the state-run papers in China, it's all about the man who says he will not pay.
Headlines read, "Patriotic bidder thwarts relics' sale," "Bidder traps Christie's," and "Mysterious Bidder Emerges."
China's blogs are also flooded with strong reaction on both sides. One calls Cai a national hero, but others question whether his act was patriotic. Said one blogger: "He's ruined the reputation of the Chinese people."
Don't Miss
In the days before the auction at Christie's in Paris, the Chinese government demanded the sculptures be returned.
The government says it had nothing to do with the bogus bid but insists the sale should never have been made.
"This belongs to China," said Qin Gang, a foreign ministry spokesman. "It illegally ended up in a foreign country. We oppose the auction."
The bronze heads of a rat and a rabbit were featured in last week's auction of art, jewelry and furniture from Saint Laurent's estate. Each one was sold for more than $20 million, double the pre-auction estimate.
The heads are part of a set of 12 animals in the Chinese zodiac that adorned a fountain in China's Summer Palace. They were based on the drawings of a Jesuit missionary for the fountain and are prized for their naturalistic, expressive faces and realistic detail.
They disappeared from China when French and British troops pillaged the palace during the Second Opium War in 1860.
To many Chinese, the two bronze sculptures are painful reminders of what China-watchers call the "hundred years of humiliation syndrome," especially because the antiquities disappeared when a weak China was subjected to invasion and bullying by Western powers.
China has moved to punish Christie's after the sale. China's State Administration of Cultural Heritage decreed tighter inspections on all cultural relics that Christie's seeks to bring in and out of China, a move meant to choke Christie's small but potentially big auction business in China.
Other wealthy buyers have in the past paid large amounts of money for looted Chinese relics at auction, then donated them to China, but Cai vows no money will change hands.
Christie's is not commenting on the sale or the possibility that Cai will not pay.
"We do not comment on the identity of our consignors or buyers, nor do we comment or speculate on the next steps that we might take in this instance," said a spokesman who declined to be named.
Pierre Berge, Saint Laurent's partner who jointly owned the items with the designer, told French state radio he would keep the two bronze sculptures if the sale is not resolved.

"I will keep them at my home," Berge said. "That is where they were and that is where they will return and we will continue to live together."
The auction of works from the Yves St. Laurent collection raised just over $483 million, Christie's said. That set a world record for a private collection sold at auction, the auction house said.
E-mail to a friend

CNN's Emily Chang contributed to this report
All About China • Culture and Lifestyle • Yves Saint Laurent