(CNN) -- A Chinese man who bid nearly $40 million for a pair of controversial antique Chinese statues said Monday he is refusing to pay for them, state media reported.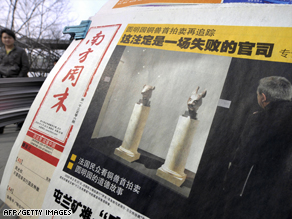 A Beijing news stand shows a report about the sale of the two bronze artifacts.
Cai Mingchao, who works for China's National Treasures Fund, placed the winning bid by phone at a February 25 auction of artefacts once owned by fashion designer Yves St. Laurent, the Xinhua news agency reported.
"What I want to stress is that this money cannot be paid," Cai said at a news conference, according to Xinhua.
"Every Chinese would have liked to do like this at that moment, and I'm honored to have the chance to make the bid," Xinhua quoted Cai as saying.
"I did this on behalf of all Chinese people," he said.
It was not clear if he was acting on his own or with the authority of the Chinese government.
China said before the auction that the two pieces were stolen in the 19th century and should not be included in the auction. The two Qing Dynasty pieces, the sculpted head of a rat and a rabbit, date from the 18th century.
Don't Miss
But Christie's auction house went ahead with the sale, stirring nationalistic passion among Chinese in and outside China.
The pieces sold for a winning bid of €31.49 million ($39.63 million).
Christie's declined to comment.

"We do not comment on the identity of our consignors or buyers, nor do we comment or speculate on the next steps that we might take in this instance," said a spokesman who declined to be named.
The auction of works from the Yves St. Laurent collection raised just over $483 million, Christie's said. That set a world record for a private collection sold at auction, the auction house said.
E-mail to a friend

All About China • Yves Saint Laurent