From Harmeet Singh
CNN





NEW DELHI, India (CNN) -- The only surviving suspect from November's deadly terror attacks in Mumbai was formally charged Wednesday with attempted murder and damage to public property, a prosecutor said.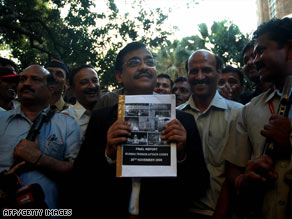 Special Public Prosecutor Ujjwal Nikam, center, poses Wednesday with a report outside a court in Mumbai.
Special Public Prosecutor Ujjwal Nikam told reporters outside Qila Court in Mumbai, India, that Mohammed Ajmal Kasab didn't attend the court session because of security reasons.
Nikam said Kasab also faces other charges. The next hearing is set for March 9.
Also charged Wednesday were two men accused of helping to plan the spree, Fahim Ansari and Sabahuddin Ahmed, according to the prosecutor.
Kasab, 21, was one of 10 men accused of taking part in the series of coordinated attacks on hotels, hospitals and other buildings in India's financial capital.
More than 160 people, including many foreigners, died in the three-day siege that began November 26.
The attackers took hostages as they targeted buildings such as the Taj Mahal Palace and Tower and Oberoi-Trident hotels, Mumbai's historic train station and a Jewish cultural center.
Hostages were taken during the siege, which ended when Indian forces gunned down nine suspects.
Don't Miss
The Indian government has blamed the attacks on Lashkar-e-Tayyiba, a Pakistan-based militant group. Nikam said the 11,000-page file that describes the charges against Kasab also contains the names of 35 other suspects being sought in the crimes, many of whom are believed to be members of the organization.
The prosecutor said his office hopes to finish the trial for Kasab in three to six months. Kasab has been in police custody since November 28.
Also Wednesday, an Indian official said the government has adopted some of America's anti-terror mechanisms as part of its preparedness against terror attacks.
Home Minister P. Chidambaram told the Indian parliament that India has studied measures the United States took after the September 11, 2001, terror strikes.
"We have taken whatever elements are relevant and germane to the Indian situation," he said. He mentioned the U.S. National Counterterrorism Center as a case study for India in the aftermath of the November siege of Mumbai.
"Notwithstanding some financial constraints, we have tried to replicate the [NCTC] through our (multiagency center) which is now the nodal center for counterterrorism. We should spend some more money. But more money has been made available in 2009-10," he said.
E-mail to a friend

CNN's Bharati Naik contributed to this report.
All About Lashkar-e-Tayyiba • India • Pakistan • Mumbai