BANGKOK, Thailand (CNN) -- Thousands of supporters of former Thai Prime Minister Thaksin Shinawatra demonstrated peacefully outside government headquarters on Tuesday to push their demand for a general election.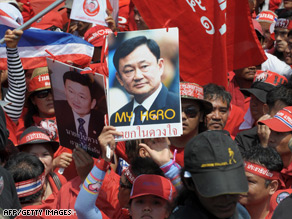 Thousands of supporters of Thaksin Shinawatra protest outside parliament in Bangkok.
More than 5,000 police officers stood guard inside and outside Government House to prevent the protesters from entering.
But the red-shirted demonstrators, with the United Front for Democracy against Dictatorship (UDD), said they would not invade the premises nor prevent Cabinet ministers from entering their offices, the Thai News Agency said.
Current Prime Minister Abhisit Vejjajiva has said his government will continue negotiating with the UDD and that he will not authorize violence or a special law to deal with the protests.
Lawmakers named the 44-year-old, Oxford-educated Abhisit as prime minister on December 17 after some members of the former ruling coalition broke ranks to support him. But his accession was met with angry protests by former Thaksin's supporters.
Thailand's recent woes date back to a 2006 coup that ousted Thaksin and culminated with the December 2, 2008 court ruling that found his ruling party guilty of electoral fraud and threw his brother-in-law out of the prime minister's seat.
That ruling came after more than two months of sit-ins by opponents of Thaksin's ruling People Power Party.
Demonstrators occupied the headquarters of the government and blockaded Bangkok's major international airport, stranding throngs of tourists who provide much of the country's revenue.
Abhisit has pledged to work towards an economic rescue for Thailand, which teeters on the edge of recession.
E-mail to a friend