(CNN) -- Tamil rebels in Sri Lanka are ready to accept international calls for a cease-fire, but won't lay down their weapons without a political solution in the quarter-century-long civil war, according to a letter released by the group.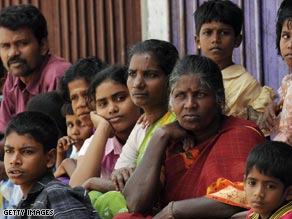 Tamil residents at a protest at which rebels were denounced for allegedly using civilians as human shields.
But no cease-fire offer is being offered as government troops press their offensive against Tamil forces and their remaining strongholds in northern Sri Lanka.
The Liberation Tigers of Tamil Eelam (LTTE) cited "the good intention of ending the human suffering" for its readiness to accept calls for a cease-fire, B. Nadesan, the political head of the rebels, said in a letter released Sunday.
"The LTTE desires that this effort for a cease-fire to grow further into peace talks to seek a political solution to the ethnic conflict."
Tamil rebels have fought for an independent homeland for the country's ethnic Tamil minority since 1983. The civil war has left more than 70,000 people dead.
"The Tamils of Tamil Eelam are facing the worst genocide of the 21st century," Nadesan said in his letter.
Government forces have claimed a series of victories in the new year, pushing rebel forces into an ever-shrinking section of northern Sri Lanka as humanitarian groups have reported high levels of civilian casualties.
In a report released on Thursday, Human Rights Watch criticized the Sri Lankan government for its "indiscriminate" killings of civilian as it attempts to fight the rebel movement. As the rebel stronghold continues to shrink, civilians are trapped in the cross-fire, HRW reports.
"Sri Lankan forces are shelling hospitals and so-called safe zones and slaughtering the civilians there," James Ross, legal and policy director at Human Rights Watch, said in a statement.

Watch iReporter George Chege's video of the rebel attack on Colombo last week »
HRW also condemned the Tamil Tigers for its treatment of civilians.

Two thousand civilians have been killed and 5,000 more wounded, according to the organization's 45-page study.
"The protection of the Tamil people is dependent on the arms of the LTTE," Sunday's letter from the rebels said. "When a permanent political solution is reached for the Tamil people, with the support and the guarantee of the international community, the situation will arise where there will be no need for the arms of the LTTE."
E-mail to a friend

All About Sri Lanka