(CNN) -- Kyrgyzstan parliament has voted to close a base the U.S. military uses as a route for troops and supplies heading into Afghanistan, a government spokesman said Thursday.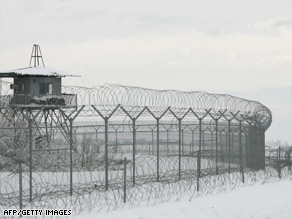 Manas Air Base in Kyrgyzstan serves as a U.S. supply route for troops and supplies into Afghanistan.
Of the 87 members of parliament who attended the session, 78 voted to close it, the spokesman said.
The law must now be signed by the Kyrgyz president.
It will then be forwarded to the United States, after which the U.S. military has 180 days in which to withdraw from the base, the spokesman said.
The Manas air base outside Bishkek is the Americans' only base in Central Asia and is a major resupply hub for the war in Afghanistan.
Its closing could deal a significant blow to the U.S. military effort there, especially following President Barack Obama's announcement of additional troops to halt a resurgence of the country's former Taliban rulers.

Watch why Kyrgyzstan wants to close the base »
The air base currently employs more than 1,000 servicemen, 95 percent of whom are Americans, Russia's Interfax news agency reported.


How far is Manas from Afghanistan? View our map »
The base is used to transport military personnel and cargo to Afghanistan and to refuel aircraft.
E-mail to a friend