By Sara Sidner
CNN





NEW DELHI, India (CNN) -- In 1959, the Rev. Martin Luther King Jr. came to India to further understand Mahatma Gandhi's tactics of passive resistance.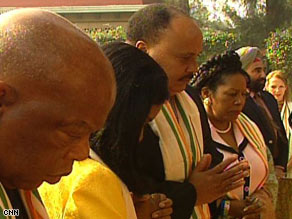 Martin Luther King III, center, reflects at the site of Mahatma Gandhi's memorial.
Gandhi's methods of nonviolent protests had worked a decade earlier to bring independence to a nation. In '59, King was in the midst of formulating and carrying out his own plan to help bring freedom and equality to the oppressed in the United States.
Both leaders paid a heavy price. Although their methods were ones of nonviolence, they both died violent deaths, assassinated by gunmen.
Their legacies were forever linked by the lessons King applied when he returned to America after his monthlong trip to India with his wife, Coretta.
Andrew Young, a top aide to King, says the civil rights leader "found great strength in Gandhi and in Gandhi's writings, his life, his tactics."
On the 50th anniversary of King's visit to India, his oldest son, Martin Luther King III, and a delegation of congressmen and leaders like Young went to India to commemorate the historical trip.
At a time when war and terrorism are raging in many nations, the younger King said, the notion of a nonviolent means to an end is needed as much now as it ever was.
"My dad used to say that violence is the language of the unheard," King said as he stood in New Delhi looking at pictures of his father in India. "For so long, we in the world community disallowed people to express the other points of view. I think we have to learn how to disagree without being disagreeable."
King, who was 2 when his father came to India, visited several sites including the place where Gandhi was cremated, his memorial and an exhibition of pictures put on by the American Embassy in Delhi.
"This was truly a mountain-top type of experience for me," King said. "I remember my mother, sharing this very special experience with us children in the family of how moving this experience was for her. ... Now I truly understand that it's one thing for a parent to share the experience, it's another thing for you to be physically at the site and experience it for oneself. "
The U.S. delegation also brought a rare treat to India to commemorate the historic visit in '59. The delegation included some celebrated American musicians who put on a concert. Grammy Award-winning singers and musicians Chaka Khan, Herbie Hancock, George Duke, tabla player Ustad Kazir Hussein and Dee Dee Bridgewater were among those who brought a special sound to India for the occasion.
"Music brings people together," King said at the celebratory concert. "In our tradition, the freedom tradition, perhaps if Mohandas K. Gandhi were here and Martin Luther King Jr. were here, they might be telling us not only that we shall overcome but maybe to some degree we have overcome."
Grammy-winner Herbie Hancock said music has a special purpose.
"We're here to celebrate peace." Hancock said. "Music has always celebrated peace. It has also been used for war, but we all know that is not the best use for it. The best use for it is for something that is constructive."

Watch as Chaka Khan sings "Night in New Delhi" with Herbie Hancock on keyboards »

Pooja Bansal, an Indian student who attended one of the ceremonies, was proud that King had learned from one of India's greatest heroes.
"His father is to America what Gandhi is to India," he said. "He came here 50 years ago to hear Gandhi himself and had a great impact on the way he led a similar movement. What do you think about that, he actually learned from Gandhi's teachings?"
E-mail to a friend

All About India • Martin Luther King Jr. • Mahatma Gandhi