(CNN) -- In July 2008, a month before China grabbed the sporting headlines for the Beijing Olympics, Zheng Jie made her own bit of sporting history for China.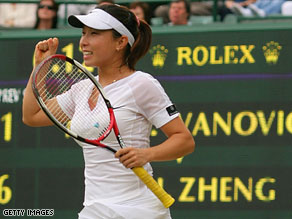 Zheng Jie was the first Chinese player to reach a Grand Slam tournament semi final.
Entering Wimbledon as a wild-card and ranked 133, Zheng beat Ana Ivanovic, who was then the world number one, en route to a place in the semi finals. It was the first time a Chinese player had reached a Grand Slam tournament semi final.
Despite losing to eventual champion Serena Williams, it was a reward that vindicated the hard work and dedication the 5 feet 4 inch player has devoted to her game, and made the 25 year-old a pioneer for Chinese tennis.
"After my performance at Wimbledon when I returned to China, I was welcomed by a huge crowd at the airport. I was thrilled that I could turn so many people's attention to the tennis," she told CNN.
Zheng grew up in Chengdu in Sichuan and donated her winnings from Wimbledon to the Sichuan earthquake relief fund -- her parents and many of her friends still live in the disaster-affected province.
She followed up her Wimbledon performance with a bronze medal on home soil at the Beijing Olympic Games, which was an even sweeter feeling than her Wimbledon run.
Show times
Wednesday, Feb 18: 14.00 GMT (22.00 Hong Kong)
Thursday, Feb 19: 04.00 GMT (12.00 Hong Kong)
Saturday, Feb 21: 15.30 GMT (23.30 Hong Kong)
Sunday, Feb 22: 01.30 GMT (09.30 Hong Kong)
Monday, Feb 23: 03.00 GMT (11.00 Hong Kong)

"To me [the Olympics is] a wonderful memory of my career path. When I watched the five-star flag rising up in my own country, it's hard to describe or express the feelings of pride with words," she said.

Zheng has been on the pro tennis tour since 2003 and found Grand Slam doubles success in 2006 -- winning the Australian and Wimbledon titles with Zi Yan -- but her singles displays in 2008 represented a new progression in her career and alerted the world to the potential of Chinese tennis.

Zheng's parents didn't play tennis themselves but encouraged her to take up the sport just to stay fit, but Zheng became hooked on the game.

Because of her small stature she was often overlooked in favor of taller and stronger players when opportunities arose to train in the U.S. However, such snubs did not dent her ambition.

"Actually I played really well, but just because of my physical qualities coaches didn't think I was fit for tennis. But I really like playing tennis and I was ambitious. If you say I can't make it, I'll prove it to you that I can. With such a mentality, I persevered to make it to this level of tennis," she said.

Zheng had an injury affected 2007, but since returning to the game she carries onto the court a small bottle containing her bone fragments in order to remind her of how fortunate she is to be able to compete.

"Even though the injuries made my world ranking plunge, it also made me grow up a lot," she told CNN.

"During the period I was injured, they invited physicians, therapists, doctors, a whole big team supporting me to help me recover in such a short time. I reckon that without the state welfare, I wouldn't be the position where I am today."
Mental toughness, skill and a will to win have propelled Zheng to the top of Asian tennis. A trail-blazer in her own right, she may prove to be the first of many Chinese players to make a significant impact in the tennis world in the years to come.
E-mail to a friend