ISLAMABAD, Pakistan (CNN) -- A video that aired Friday on Pakistan's Geo TV network appears to show John Solecki, an American U.N. official kidnapped earlier this month in Quetta, Pakistan.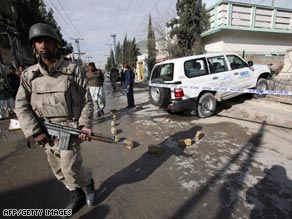 A soldier stands guard where John Solecki was kidnapped in Quetta, Pakistan, in early February.
In the video, the man who appears to be Solecki says: "This is a message to the United Nations. I am not feeling well. I'm in trouble.
"Please help solve the problem soon so I can gain my release."
Geo TV said the tape was sent to its News Online Web site and posted there before it aired on the network.
Solecki heads the U.N. High Commissioner for Refugees office in Quetta, a city in southwestern Pakistan that is the provincial capital of Balochistan, the United Nations said.
Maki Shinohara, UNHCR spokeswoman in Pakistan, told CNN Friday the organization has not been able to determine which group is holding Solecki.

Watch video of man believed to be John Solecki »
UNHCR is seeking a direct contact so it can find out what the demands are for Solecki's release.
Don't Miss
He was kidnapped by militants February 2 while on his way to work, in a brazen daylight attack, the organization said.
His driver, Syed Hashim of Quetta, was fatally injured, police said. No group has claimed responsibility for abducting Solecki.

His father, Ralph Solecki of South Orange, New Jersey, told CNN Friday he was aware of the video but had no comment.
Shortly after the kidnapping, the U.N. office in Islamabad said it was "taking all possible measures to secure (Solecki's) release."
E-mail to a friend

All About Pakistan • United Nations High Commissioner for Refugees