KINGLAKE, Australia (CNN) -- Police were questioning a man taken into custody Friday in connection with one of the many wildfires that have laid waste to parts of southeastern Australia. No other details were immediately available.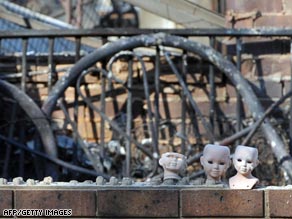 Porcelain dolls sit in front of a burnt house in the township of Phesant Creek, 100km north of Melbourne.
The development came as the blazes that have roared through the region for nearly a week were slowly coming under control.
The Country Fire Authority said the number of fires burning had dropped to 21 from about 35 on Thursday.
While "the threat will remain for weeks to come," a spokesman said no towns were under threat Friday morning and that good weather had allowed firefighters to build containment lines around the fires.
Meanwhile, more than 150 detectives were working on an arson investigation, authorities said.
Two men who were arrested for "suspicious behavior" on Thursday were released without charges.
"We are satisfied with their explanation and don't expect to talk to them again," Victoria state police inspector Peter Sheppard said.
Firefighters have battled blazes since Saturday -- including several new fires that broke out Tuesday night, which officials said almost certainly were the result of arson.

See map of fire-hit areas »
Don't Miss
The official death toll from the fires has remained at 181 for the past two days. But government officials say that number could reach as high as 300 based on the number of people missing and number of homes destroyed. iReport.com: Raging fire approaches home
Sheppard said the tally is not being updated as frequently because it's become harder to verify fatalities from the fires -- which have destroyed more than 1,800 homes and displaced about 7,000 people.
"Initially it was a fairly straitforward process -- bodies were in cars, on sides of roads," he said. "Now, the search is through buildings. Many have collapsed."

Watch profiles of lucky animals that survived the fires »

He said that in the town of Marysville, which was hard-hit by the wildfires, bodies are believed to be in a hotel but firefighters cannot get access to it.

iReport.com: Wildfires tear through Victoria state »
On Thursday, Prime Minister Kevin Rudd announced to parliament that the government will hold a memorial service and national day of mourning for victims of the fires. He said the government is working with the nation's Council of Churches to determine the day.
E-mail to a friend

CNN's John Vause contributed to this report.
All About Australia • Natural Disasters • Kevin Rudd