(CNN) -- The Sri Lankan government said Sunday that more than 10,000 civilians have fled fighting between government forces and Tamil rebels in northern Sri Lanka over the past week, a "sudden increase" in people displaced by the violence.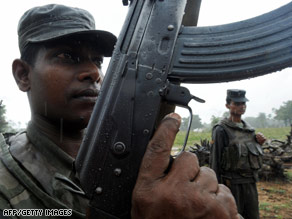 Sri Lankan soldiers walk through the captured Chilawatte area in the Mullaittivu district, January 27, 2009.
Most of the 10,501 displaced civilians are from Kilinochchi, while others are from the Jaffna peninsula, according to a news release from Sri Lanka's defense ministry. More than half are women and children, it said.
The government said it is providing refuge, medical care, and sustenance to the displaced civilians.
Kilinochchi is the former capital of the Tamil Tiger rebel movement, which is locked in a battle with government troops over its remaining strongholds in northern Sri Lanka. The town was retaken by Sri Lankan forces in early January.
The rebels have been fighting for an independent homeland the country's ethnic Tamil minority since 1983.
Don't Miss

Humanitarian groups say as many as 250,000 unprotected civilians are trapped in the area where the fighting is taking place, and the onslaught has intensified as government forces have closed in on the rebels. The aid agencies have asked for increased access to northern Sri Lanka, calling it a nightmarish situation.
Last week, the fighting forced the closure of Pudukkudiyiruppu hospital in the Vanni region, the last functioning medical facility in the area of fighting.
E-mail to a friend

All About Sri Lanka • Liberation Tigers of Tamil Eelam