UNITED NATIONS (CNN) -- U.N. Secretary-General Ban Ki-moon plans to create a special commission to investigate the killing of former Pakistani Prime Minister Benazir Bhutto, a United Nations spokeswoman said Wednesday.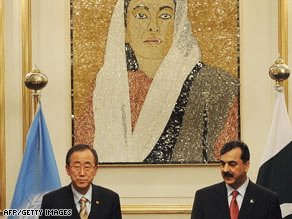 The U.N.'s Ban Ki-moon, left, visited Pakistani Premier Yousaf Raza Gilani on Wednesday in Islamabad.
Ban, who was in Pakistan for his first official visit, "intends to establish an independent commission of inquiry," said spokeswoman Marie Okabe.
The decision came after "extensive consultations" with the Pakistani government and members of the U.N. Security Council, Okabe said. The U.N. announced Ban's intention to pursue such a commission in December, on the one-year anniversary of Bhutto's death.
Bhutto, 54, was heading the opposition to then-President Pervez Musharraf when she was assassinated December 27, 2007, during a campaign rally in Rawalpindi ahead of parliamentary elections. She died after a bomb blast slammed her head into her SUV -- in which she was standing through an open roof, waving at supporters.
The Pakistani government and CIA officials said Baitullah Mehsud, leader of the Taliban in Pakistan, was responsible for her death. In December, a Gallup Poll showed that almost half of Pakistanis believed Musharraf's government had something to do with the killing.
Bhutto had told supporters that if she was killed, Musharraf would be responsible. She sent Musharraf a letter during the campaign that said that four people in the government were plotting to kill her, an official in her party said.
Musharraf's party was trounced in the February 2008 elections and the new parliament elected Yousaf Raza Gilani, a longtime aide to Bhutto, as the new prime minister. Musharraf -- who took power in a bloodless coup in 1999 and who had been accused of corruption, violating Pakistan's constitution and mismanaging the economy -- resigned as president in August.
He was replaced by Bhutto's widower, Asif Ali Zardari.
Ban met with Gilani and President Zardari on Wednesday.
He has sent a letter to the U.N. Security Council informing them of his plans for the three-member commission, Okabe said.
E-mail to a friend

All About The Taliban • Pervez Musharraf • Benazir Bhutto • United Nations Security Council