IDI, Indonesia (CNN) -- A group of refugees from Myanmar who were rescued by Indonesian authorities claimed Wednesday that 22 of their number died after they were abandoned at sea by the Thai military.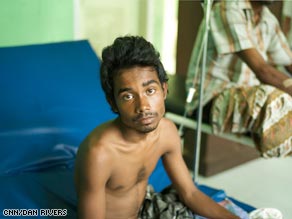 Rohingya refugees being treated in Idi, Indonesia.
The survivors told CNN harrowing tales of being captured and beaten that are almost identical to the accounts of other refugees featured in a recent CNN investigation.
The claims that the Thai military is targeting the Rohingya refugees, a Muslim minority group from Myanmar, have caused Thai authorities to launch an investigation.
The newest claims came from a group of 198 refugees who were found by Indonesian authorities floating in a rickety boat Tuesday.
Half of the group was in a hospital in the town of Idi, in northern Indonesia, Wednesday, many of them with open wounds on their backs. The other half were being housed in a government building.
Rahman Ullah, 37, told CNN that, after he had fled Myanmar for Thailand, he was detained and beaten by Thai officials, put in boats with about 1,200 other refugees and then towed out to sea.
Thai military officials removed the engines from the refugees' boats, then towed them out to sea for two days before abandoning them, Ullah said.

Watch a report on more refugees washed ashore in Indonesia »
Other survivors also said they had been severely beaten by Thai military officials.
Survivors said 220 people were on the boat that was found by Indonesian authorities, but 22 had died.
Delegates from Bangladesh, India, Indonesia, Malaysia and Myanmar went to Thailand's Ranong province Tuesday, prompted by such allegations.
Allegations arose a month ago that a group of Myanmar's Rohingya minority -- who have been fleeing their homeland for years, saying they are persecuted by its military government -- had been dumped at sea by the Thai military.
Don't Miss
A recent CNN investigation found evidence of such activity. Photos obtained by CNN include one that shows the Thai army towing a boatload of about 190 refugees.
CNN also interviewed a refugee who said he was one of the few who had survived after a group of six rickety boats was towed back to sea and abandoned by Thai authorities earlier this month.
The Thai army has denied the allegations. But after extensive questioning by CNN, one source in the Thai military confirmed that the Thai army was operating a dump-at-sea policy.

The source defended it, saying that each boatload of refugees was given sufficient supplies of food and water.
That source said Thai villagers had become afraid of the hundreds of Rohingya arriving each month, and they had accused the refugees of stealing their property and threatening them.
E-mail to a friend

CNN's Dan Rivers contributed to this report
All About Thailand • United Nations High Commissioner for Refugees