(CNN) -- Three people were killed and 10 wounded when a hospital treating victims of Sri Lanka's civil war was shelled for a fourth time in two days, the International Committee of the Red Cross told CNN Tuesday.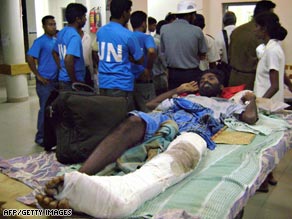 A civilian, injured during fighting in rebel territory, lies on a bed at a hospital in Vavuniya on January 16, 2009.
Artillery shells slammed into the hospital in the northern district of Mullaittivu on Monday evening. Strikes on the hospital on Sunday -- including one that hit the pediatric ward -- left 11 people dead, including some children, according to an aid worker who spoke to witnesses.
Government forces and Tamil rebels are locked in a battle for the remaining rebel strongholds in northern Sri Lanka, where the the country's ethnic Tamil minority has been fighting for an independent homeland since 1983.
Humanitarian groups say as many as 250,000 unprotected civilians are trapped in the area. The civil war has left more than 70,000 people dead.
International humanitarian aid agencies have asked for increased access to the region, calling conditions in northern Sri Lanka a "nightmarish situation."
Sarah Crowe of UNICEF told CNN Monday that aid from the United Nations was getting into the war zone only every few days.

Watch video an aid group says shows civilians suffering »
"We need open access," she said. "These children and families need to be protected and they need to get out fast." Hundreds of civilians, including children, have been wounding in fighting since the end of last week.
Don't Miss
Government officials have accused aid organizations and foreign media of sensationalizing civilian casualties.
"It looks as if it's convenient for certain agencies to exaggerate the numbers so that this can be converted to a humanitarian crisis in the public eye, " Secretary of Foreign Affairs Dr. Palitha Kohona told CNN.
Over the weekend, Defense Secretary Gotabaya Rajapaksa promised to "continue with the military offensive until we liberate the remaining area under LTTE (the rebel group's) control," according to Sri Lanka's state-run news agency.
Sri Lankan President Mahinda Rajapaksa has promised to allow safe passage to trapped civilians and urged the Tamil Tigers, as the rebels are commonly known, to promise the same.
A handful of U.N. staff are working round the clock to save a growing number of children caught in the crossfire, a U.N. spokesman said Saturday.
Children as young as 4 months old were being treated in area hospitals for shrapnel injuries and other wounds of war, spokesman James Elder told CNN.
"There is just intense fighting in a small area where children and other civilians are," Elder said. "The space [where conflict is taking place] is shrinking and the fighting is augmenting."

Last Thursday, U.N. aid workers rescued 50 critically injured children and 105 adults, he said.
"We are trying to get as many people out of there as we can," Elder said.
E-mail to a friend

CNN's Sara Sidner contributed to this report.
All About Liberation Tigers of Tamil Eelam • Sri Lanka • Ban Ki-moon • United Nations • UNICEF