(CNN) -- Job losses triggered by the global financial crisis have driven some 20 million Chinese workers from cities back to their rural homelands, according to China's state-run Xinhua news agency.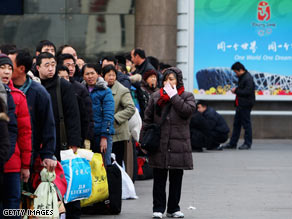 Migrant workers arrive at Beijing's West Railway Station on Monday, despite growing unemployment.
Quoting a senior official and a survey by the Ministry of Agriculture, Xinhua said about 15.3 percent of the 130 million workers who migrated to metropolitan areas in years past have returned to the countryside.
Meanwhile, the central government issued a statement warning 2009 will be "possibly the toughest year" since the turn of the century in economic development, and in maintaining development in rural areas, Xinhua said.
The country's economic growth slowed to 6.8 percent in the fourth quarter of 2008, taking the annual rate to a seven-year low of 9 percent, the news agency said.
Don't Miss
The government urged companies to take on more social responsibilities and give rural migrant workers more favorable employment treatment. Flexible employment policies and more training opportunities were also encouraged, Xinhua said.
China's economic growth fell to 6.8 percent in the fourth quarter of last year.
E-mail to a friend

All About China