NEW DELHI, India (CNN) -- India's Prime Minister Manmohan Singh is "stable, comfortable and making rapid progress" after a successful heart surgery, his office said Sunday.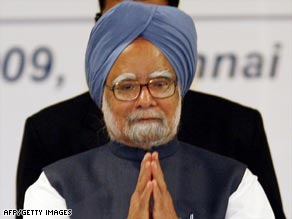 Manmohan Singh has a history of heart troubles.
Doctors said Singh will likely remain hospitalized for the next week and he will be able to resume most of his duties in a month.
Singh, 76, underwent a coronary artery bypass on Saturday at the All India Institute of Medical Sciences in New Delhi.
He also underwent a bypass in 1990 and an angioplasty in 2004.
"The prime minister, Dr. Manmohan Singh, spent an uneventful night following his surgery," a statement from his office said.
"He talked to his family this morning. The doctors attending on the prime minister say that he is stable, comfortable and is making rapid progress."

India's External Affairs Minister Pranab Mukherjee is in charge of Singh's Finance Ministry portfolio until the prime minister recovers.
Singh's ruling Congress party last year survived a vote of confidence that came amid controversy in India over a now-approved nuclear deal with Washington.
E-mail to a friend