From Dan Rivers
CNN





BANGKOK, Thailand (CNN) -- Thai lawmakers were probing Thursday "very alarming" reports about its troops abusing and casting out members of a Muslim minority group fleeing to its shores.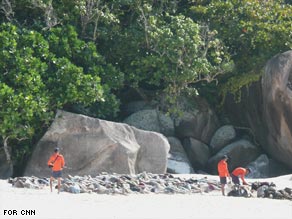 This picture taken December 23 by a tourist to Thailand's Similan Islands shows handcuffed refugees under guard.
Thai senators began looking into claims that troops operating on an island off the country's coast are detaining Rohingya refugees from Myanmar and setting them out to sea.
"The reports that we are hearing are very alarming," said U.N. refugee agency spokeswoman Kitty McKinsey. "That they were detained in Thailand and then towed out to sea on unseaworthy boats and left to die basically."
There were reports in December of hundreds of people dying at sea.
There are also immediate concerns for about 126 Rohingya thought to be in Thai custody. It is not known whether they were being held or whether they are at sea. The U.N. refugee agency said it has asked the Thai government for access to the group.
Boatloads of Rohingya arriving in Thailand is nothing new, but non-governmental organizations are increasingly worried about what they say is an apparent change of government policy.
They say the army's Internal Security Operations Command is forcing the Rohingya back to sea rather than deporting them overland to Myanmar.

Watch allegations refugees have been forced out to sea »
Don't Miss
An Australian tourist told CNN that refugees were whipped last month by Thai guards on Koh Sai Daeng, a popular diving resort island in the Andaman Sea -- which borders the stretch of Malaysia and Thailand in the Malay peninsula.
"We saw three rows of people lying down on the beach and as we got closer we realized they were bound. Whenever one of them raised their head, they would strike them with a whip," the tourist said.
But Thailand's Army Chief Gen. Anupong Paochinda told reporters that his officers on the beach were upholding human rights principles and that none had performed their duties violently.
Thai news organizations have reported that other refugees had been left for dead or had been put back out to sea without food or water. Other reports said hundreds of the refugees had been detained on an island near the port of Ranong.
Hailing from Myanmar's northern Rakhine state bordering Bangladesh, the Rohingya have been fleeing persecution of the hard-line military regime in Myanmar, formerly Burma, for years.

They've fled by sea in small boats to other countries, such as Thailand and Malaysia.
The UNHCR says there are 28,000 Rohingya refugees in two U.N. camps in Bangladesh, and an estimated 200,000 unregistered Rohingya living there outside of refugee camps.
E-mail to a friend

All About Thailand • United Nations High Commissioner for Refugees