(CNN) -- Citing "a time of grave economic crisis," Singapore Finance Minister Tharman Shanmugaratnam proposed a a $20.5 billion (U.S. $13.6 billion) "resilience package" to parliament, as the city-state deals with its deepest recession in its history.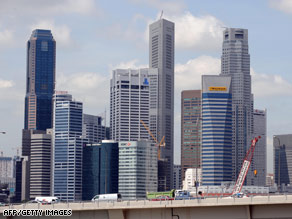 Motorists travel over the bridge against the Singapore skyline on Thursday.
Tharman included the stimulus when he unveiled Singapore's proposed annual budget a day after the government announced Gross Domestic Product was expected to shrink as much as 5 percent this year, far more than predicted earlier this month.
The resilience package will avert a sharper downturn in Singapore but won't get it out of recession, according to Tharman. It will include $5.1 billion (U.S. $3.4 billion) to preserve jobs, $5.8 billion (U.S. $3.9 billion) to stimulate bank lending, $2.6 billion (U.S. $1.7 billion) to help businesses with cash flow and competitiveness, $2.6 billion (U.S. $1.7 billion) for families in trouble and $4.4 billion (U.S. $2.9 billion) on infrastructure, education and healthcare.
The government introduced a jobs credit scheme to help employers retain workers, tax rebates for industrial and commercial properties, and a corporate income tax reduction.
The $41.7 billion (U.S. $27.9 billion) budget, which has been approved by the Cabinet, requires approval by Parliament.
The Finance Ministry cited the scale of the recession and the loss of jobs as Singapore's key risks in 2009.
E-mail to a friend

All About Singapore