SEOUL, South Korea (CNN) -- South Korean authorities have launched an investigation into a deadly fire that broke out during a police standoff with protesters, a police spokesman said Wednesday.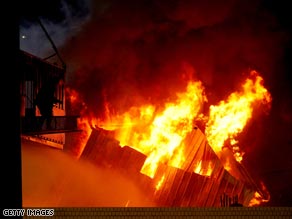 Six people including a police officer were killed in the blaze.
The Tuesday morning blaze left six people dead, including a police officer, and injured some 20 others, according to Lee Suk-hee, a Seoul police spokesman.
The fire erupted after Seoul Police Chief Kim Seok-ki ordered police commandos to storm a building where protesters were staging a sit-in against an urban development project, the Yonhap news agency reported.
The protesters had occupied the building since Monday, demanding higher compensation for the forced closures of their businesses caused by the redevelopment project.
The Supreme Prosecutors' Office is investigating how the fire started, questioning commandos and protesters, according to Yonhap. Kim is also expected to be questioned for his role in the incident.

Watch protesters face off against police »

"We demand the government punish everyone responsible for the bloody crackdown that suppressed the people's struggle for their right to live," the families said in a joint statement, Yonhap reported.
Various groups have gathered at the site to honor the dead, call for an investigation and condemn the use of force by police.
E-mail to a friend