BEIJING, China (CNN) -- China's economic growth slumped to 9 percent for 2008, according to numbers released by the government Thursday -- in line with expectations, but still the slowest rate the nation has seen in seven years.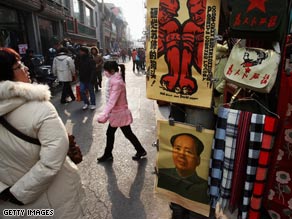 People shop for the Lunar New Year Wednesday in Beijing, China.
Economists are concerned about what the slowdown means for investment in the future, whether new projects will be undertaken in manufacturing companies and in factories. If not, it will translate into more job losses and erase any optimism about a rebound in 2009.
Since 2001, China has been used to double-digit growth as consumers buy Chinese goods. However, the export sector was hit hard in late 2008, with December exports down 2.8 percent.
Consumer spending has mostly held up in China, as people there do not carry as much debt as their American counterparts and can continue to spend.
Consumer confidence, however, is a problem, said Dong Tao, Asia chief economist for Credit Suisse. Infrastructure is the only thing driving the Chinese economy, Dong said.
Tens of thousands of Chinese factories have closed, millions of people are looking for jobs and an untold number of migrants who can't find work may be leaving cities for good because of the slowdown, which would have been unheard-of six months ago.

Watch as migrants head home for the Lunar New Year »

Fourth quarter numbers showed growth at 6.8 percent. Goldman Sachs predicted 6.5 percent, down from 9 percent in the third quarter.
For all of 2008, Goldman Sachs had predicted 8.8 percent, down from 11.9 percent in 2007.
E-mail to a friend

CNN's Eunice Yoon contributed to this report.