(CNN) -- Singapore's Gross Domestic Product is expected to shrink as much as 5 percent in 2009, far more than the 1 to 2 percent contraction predicted earlier this month, the government said.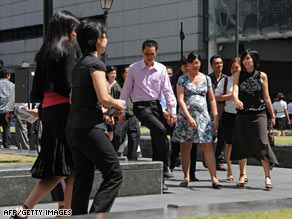 People walk out for their lunch break in the financial district of Singapore on Wednesday.
The Ministry of Trade and Industry said it expected a GDP reduction of between 2 and 5 percent this year.
Singapore's economy grew by 1.2 percent in 2008, the government said, far lower than its 7.7 percent growth in 2007. Slowdowns in manufacturing, trade, transport and storage, information and communications and the financial services sectors contributed to the decline, the government said.
The global financial crisis led to a "significant decline in fund management and stock broking activities in the second half of 2008," and a sharper downturn was expected in 2009, the ministry said.
The ministry cited data on retail sales and unemployment in the United States, industrial production in Europe and on Asian exports for the weaker outlook.
Inflation was expected to ease slightly, however.
The finance minister is expected to deliver the 2009 budget statement on Thursday.
E-mail to a friend

All About Singapore