By Pam Benson
CNN National Security Producer





WASHINGTON (CNN) -- A son of Osama bin Laden, believed to be an al Qaeda operative, has left Iran and is likely in Pakistan, the chief intelligence officer of the United States said Friday.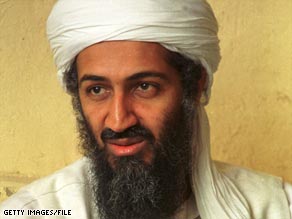 Osama bin Laden, shown in an undated photo, has a son who is believed to be an al Qaeda operative.
Director of National Intelligence Michael McConnell told reporters that Saad bin Laden departed Iran in September and is probably hiding in Pakistan, where his father is also believed to be.
U.S. Intelligence officials consider Saad to be a mid-level al Qaeda operative who fled to Iran after the U.S. invasion of Afghanistan in 2001.
Two years later, Iran's government placed him under what U.S. officials called "permissive" house arrest.
McConnell would not say whether the younger bin Laden escaped detention or was allowed to leave Iran.
McConnell indicated he wasn't troubled by the move, suggesting the United States has a better chance of getting rid of Saad if he is in Pakistan.
"It is better in my world if they are in places where we have access," McConnell said.
Questions about Saad's whereabouts were prompted Friday by a Treasury Department release that announced financial sanctions had been imposed on bin Laden's son and three other al Qaeda members with ties to Iran. The statement said, "As of September 2008, it was possible that Saad bin Laden was no longer in Iranian custody."
The Treasury Department described Saad "as part of a small group of al Qaeda members that was involved in managing the terrorist organization from Iran."
E-mail to a friend

All About Pakistan • Iran • Osama bin Laden • Al Qaeda in Iraq