HONG KONG, China (CNN) -- If you're looking to improve the environmental record of your office, there are countless web sites to help you on your way. They offer advice, software and products to make your office a greener place to be.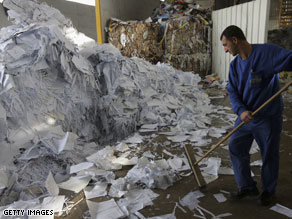 There are online solutions to cut down on your printing in the office.
TheGreenOffice.com is an online retailer showcasing a wide variety of green office supplies. From recycled paper to green snacks for the breakroom, this web site offers a good introduction to the type of products out there as well as a clear explanation of how these products are better for the environment. The biggest downside? At the moment, it's only available for U.S. customers.
Scouring the web for green office tips, you'll come across software promising to help reduce the environmental impact of printing.
Web sites like Fineprint.com and HP Smart Web Printing offer free software which cuts out extraneous material (ads, unnecessary images) when printing from web sites. It eliminates the common phenomenon of printing a page that is mostly blank. These usually require an extra few clicks of the mouse, but they are effective in reducing the number of unwanted pages.
Don't Miss
We tested greenprint.com on this week's Eco Solutions. Similar to the other software, Greenprint uses a preview page to show the user how the information will appear on the actual page when you print. It will automatically eliminate pages that would otherwise print out mostly blank. You can remove unwanted pages by simply double clicking on them. There's also an option to remove images from the document, allowing you to save on ink.

One downside however is that the text doesn't move up when you remove the image, which could help save even more paper. After you print, a small leaf icon pops up to keep track of all the paper and money you've saved by using the software.
Another interesting option is to go paperless altogether. Greenprint allows you to make PDF documents from web material. This is handy because it allows you to access this material offline without printing it out on paper.
E-mail to a friend