From CNN's Atia Abawi





KABUL, Afghanistan (CNN) -- It is not your normal Afghan battlefield, but it is one the whole country is watching.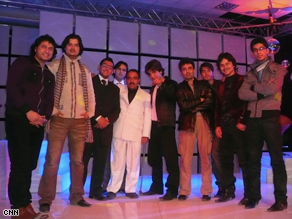 Behind the scenes with male contestants of the Afghan Star show.
Producers for "Afghan Star" -- Kabul's version of "American Idol" -- travel across Afghanistan's war-torn provinces in search of the country's most talented singers.
"This is a new type of show," contestant Naweed Sabirpur told CNN. "And the people are watching and following it intently. Even when they don't have power, they turn on their generators and watch."
The show has Afghans all over the world, via satellite television, riveted every Thursday and Friday night, reconnecting them to the country's long history of poetic and musical artistry after three decades of warfare.
It also offers a refreshing change for a country still reeling from Taliban rule, which banned music and television from 1996 to 2001 -- isolating people from a significant piece of Afghan culture.

Watch more about the making of the show »
"The people were thirsty to listen to music and to have fresh young artists," said "Afghan Star" host Daoud Siddique.
Siddique added that even though music was repressed, it wasn't forgotten.
"We are talented people, we are no different from the rest of the world's people," he said.
Still, the show often reflects the country's disparities. Of the 2,700 Afghans who auditioned last year for the show's fourth season, only 11 were women.
Among them was Elaha Sorur, the only woman to make it into the top 10 and a quick fan favorite.
"I hope from God that in the future of the series that the women participating will be ten times that of the men," Sorur said with a giggle.
A refugee in Iran for 15 years, her mix of classic and modern ballads kept the audience wanting more.
However, radical clerics have labeled the show un-Islamic, calling for its end.

But that hasn't stopped viewers from tuning in and voting for their favorites via mobile phone.
"We have to build our nation, encourage our youth," said Siddique. "We have to become like the people of the world. This is a very big message from this show."
E-mail to a friend