From Eunice Yoon and Pamela Boykoff





HONG KONG, China (CNN) -- Toymakers struggling to survive the global economic downturn are turning to emerging markets and niche products in an effort to make up for lost revenue, industry experts and manufacturers said during the Hong Kong Toys and Game Fair.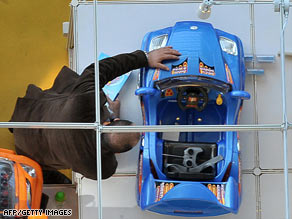 Visitors look at toy cars at an industry trade fair in Hong Kong, China, on Monday.
The week-long fair, which ended Thursday, featured some 2,000 toymakers from 37 countries and regions. Their latest offerings include cars that climb up walls, robotic cats and kits to assemble electric cars and a green power plant.
Although Chinese toymakers boosted exports by nearly 4 percent during the first 10 months of 2008, those numbers were still down 17 percent from the year before, the General Administration of Customs reported in mid-December, according to the state-run Xinhua news agency.
The downturn has been devastating to China's toy manufacturing hub, Guangdong province. Customs statistics showed that 1,554 toy companies were exporting as of the end of September 2008 -- a drop of 3,266 from 2007, Xinhua reported.
"Hong Kong toys have really penetrated the mature markets, such as the United States," said Raymond Yip, assistant executive of the Hong Kong Trade Development Council. "And with the financial tsunami, I think this is going to affect the consumer consumption in the mature markets." Watch CNN's Eunice Yoon report on the toy market

As a result, the Hong Kong Trade Development Council offered subsidized packages for major new buyers from emerging markets, such as Russia, the Middle East, Eastern Europe and Central America so they could travel to the fair.
"We believe that some of the emerging markets are less affected," Yip said. "That's why we are spending this extra program investment to bring them to Hong Kong."
Toymakers were also targeting niche areas, such as science games, to boost the bottom line.
"We think the strongest product for us is the science, because they are educational. Parents, teachers now are more willing to spend money on children for better quality educational products," said James Lim, director of Hong Kong toymaker COG Design. The company plans to cut prices by up to 10 percent this year in an attempt to boost sales and survive the downturn.
But the toy industry has not given up on traditional markets -- like the United States -- believing that games can still be popular during the tough economic period.
"I think they reckon that during the difficult times, families want to spend more time at home instead of traveling on the road," Yip said. "So I think games, educational toys, things that family can play together, will probably be more popular."
Officials at the trade fair doled out cash coupons to local exhibitors to help them promote their goods, and government authorities and industry groups were offering financial support to small and medium sized businesses to help them survive the economic downturn.

Even in the midst of tough economic times, nearly 4,000 toy buyers were participating, the council said.
"When times are difficult, there is a cause for more promotion and we want to encourage more of our companies to do more promotion at this difficult time," Yip said.
E-mail to a friend

CNN's Miranda Leitsinger contributed to this story.