From Zein Basravi CNN





ISLAMABAD, Pakistan (CNN) -- Pakistan's Foreign Office says the sole surviving suspect in the Mumbai attacks, which killed more than 160 people, is a Pakistani national, state media reported.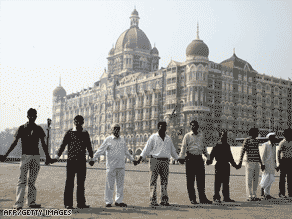 People hold a demonstration of solidarity outside Mumbai's Taj hotel in mid-December.
The office disclosed the man's nationality, according to the Associated Press of Pakistan on Wednesday.
Also Wednesday, the office of Pakistani Prime Minister Syed Yousuf Raza Gilani confirmed that National Security Adviser Mahmud Ali Durrani had been fired, but gave no reason for his dismissal.
Earlier in the day, Durrani said Mohammed Ajmal Kasab, the only surviving suspect from the attacks, had ties to Pakistan.
"I think it probably would be true now that for example [Mohammed Ajmal Kasab] had Pakistani connections," said Durrani. "So one cannot deny there was zero link with Pakistan. How much, who all was involved, that we have to investigate."
Don't Miss
Statements from Kasab, the sole surviving suspect, were among evidence that India submitted to Pakistan on Monday regarding the attacks. Also included in the dossier were phone records and information about captured weapons.
Pakistani media reports indicated Durrani was fired for revealing the alleged Pakistani connections to the media without privately consulting the prime minister.
The Mumbai killings fueled renewed tensions between the longtime rivals, who have fought three wars since independence and conducted tit-for-tat nuclear weapons tests in 1998.

India has said Islamic militants trained in Pakistan were behind the three-day siege of India's financial capital in late November. Pakistani officials have promised to cooperate with the investigation but have insisted that India provide evidence supporting its case.
Durrani is a former ambassador to the United States and a former Pakistani soldier.
E-mail to a friend