PESHAWAR, Pakistan (CNN) -- Pakistan reopened the supply route in the Khyber Pass on Saturday, four days after shutting the vital link to Afghanistan in order to fight Taliban militants, political authorities and local residents said.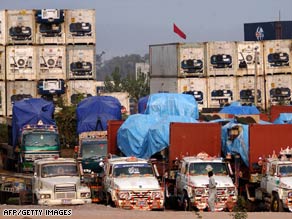 The Khyber Pass is a key supply route for NATO forces in Afghanistan.
Residents in the Pakistani towns of Landi Kotal and Jamrud, located along the route, said travelers including NATO supply convoys were able to travel toward the Afghan border and the Afghan capital of Kabul.
Rahat Ullah, a political official in Jamrud, the area's main town, said the road would be open daily from 11 a.m. to 4 p.m., after which a curfew would allow the military to continue the operation against militants.
Pakistan launched the operation Tuesday after attacks on NATO supply trucks and several girls' schools in the Khyber region.
An intelligence source in Landi Kotal told CNN that since Friday, more than 200 people, most of them Taliban members and "criminals," were arrested in the Khyber Agency.
The Khyber Pass, an ancient, three-mile pass which links Pakistan to Afghanistan through the Hindu Kush mountain range, has traditionally been a key route into Afghanistan.
The route's closure had forced NATO and U.S. forces to use air and other land routes to deliver supplies to troops in Afghanistan.
E-mail to a friend

Journalist Janullah Hashimzada contributed to this report.
All About Pakistan • Afghanistan • The Taliban