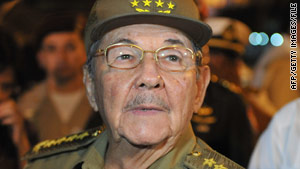 Cuban President Raul Castro says a detained American was illegally distributing satellite equipment.
STORY HIGHLIGHTS
American. subcontractor was arrested by Cuban authorities on December 4
U.S. officials release no details on the man's identity or why he was detained
Cuban president says the man was illegally distributing satellite equipment
Raul Castro says the subcontractor was trying to destabilize Cuban government
Havana, Cuba (CNN) -- U.S. diplomats gained access this week to an American subcontractor detained earlier this month by Cuban authorities, the U.S. Interests Section in Havana said Tuesday.
Monday's visit by U.S. diplomats is the first since the man's arrest on December 4, U.S. Interests Section spokeswoman Gloria Berbena told CNN. Citing privacy concerns, she declined to identify the man or the conditions of his arrest.
U.S. State Department spokeswoman Virginia Staab told CNN that diplomatic efforts are focusing on ensuring the man's welfare and seeking increased access to him.
Cuban President Raul Castro said the American subcontractor was caught illegally distributing satellite communications equipment in an effort to destabilize the island nation.
The U.S. government has not renounced its goal of destroying the revolution, Castro said during a National Assembly speech after the incident. The enemy is as active as always, he said.
This month, Development Alternatives Inc., a Maryland-based development firm, acknowledged in a written statement that the man is a subcontractor helping to implement a competitively issued subcontract to assist Cuban civil society.
According to the statement, DAI was awarded the U.S. contract in 2008 to help implement the Cuba Democracy and Contingency Planning Program -- a U.S.-government program designed to support rule of law and human rights, political competition and consensus-building in Cuba.
The U.S. State Department denies Cuban government assertions that such programs are clandestine initiatives inside the Communist nation.
"These are not secret programs and we regularly brief Congress and staff about these programs all the time," Staab said.
While facts surrounding the American's arrest remain murky, the timing of the incident coincides with what appears to be a deteriorating relationship between Washington and Havana.
At a news conference this month, Cuban Foreign Minister Bruno Rodriguez described President Obama as arrogant, and said the U.S. president lied during the recent United Nations climate summit in Copenhagen, Denmark. Rodriguez did not specify what Obama had said that he considered lying.
Castro also accused the United States of organizing human rights protests in an effort to discredit the Cuban government, and warned dissidents against getting involved in any future demonstrations.
"I will simply remind you that there are people willing to protect at any price the conquests of the revolution," told the National Assembly. "I advise these and all others to stop provocations of all kinds," he added.
This month, a few hundred pro-government demonstrators swarmed Havana's streets, encircling a small group of female protesters marching in support of International Human Rights Day.
The human-rights supporters clutched long-stemmed flowers and tiny Cuban flags as they walked through an old section of the Cuban capital chanting "Freedom!"
But their voices were drowned out by those of the pro-government crowd chanting, "This street belongs to Fidel," a reference to the current president's brother, a leader of the Cuban revolution who gave up the presidency nearly two years ago.
The Cuban government has not responded to inquiries regarding the visit to the detainee, but has long viewed U.S.-sponsored, pro-democracy programs as fronts for clandestine anti-government activity.
For nearly a half a century, the United States has maintained a trade embargo against Cuba that many on the island nation blame for their country's woes.