The Fareed Challenge: Best of 2009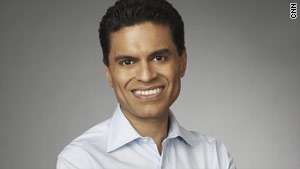 'The Fareed Challenge' is a weekly quiz that will test how much you know about what's happening in the world today. Check back every week for a new quiz.
STORY HIGHLIGHTS
This week's quiz features a compilation of some of our favorite off-beat questions from the year

'GPS' airs on CNN Sundays, 1 and 5 p.m. ET

CNNi Sundays: Buenos Aires 1000, 1800|Berlin 1400, 2200|Abu Dhabi 1700|Hong Kong 2100
Have you been paying attention to the news? Answer these questions and find out.
1) What US President was honored recently with the unveiling of a 6.5-foot golden statue in Jakarta?

a. Barack Obama
b. George W. Bush
c. Bill Clinton
d. George Washington

2) What U.S. President was honored earlier this year with the unveiling of an 11-foot golden statue in Kosovo?

a. Barack Obama
b. George W. Bush
c. Bill Clinton
d. George Washington
3) What infamous world prison was recently announced to be under threat of destruction from feral rabbits?

a. U.S.'s Alcatraz
b. Iraq's Abu Ghraib
c. South Africa's Robben Island
d. French Guiana's Devil's Island
4) A South Korean woman finally passed her written exam for a driver's license at the age of 68. How many times had she reportedly taken it?

a. 59
b. 95
c. 590
d. 950
5) In Somalia recently, a man who says he is 112 years old got married. He reportedly has a "birth certificate" from 1897 written on goatskin and his oldest son is 80 years old. How old is his blushing bride?

a. 17
b. 20
c. 80
d. 115
6) In what nation is access to a fast broadband connection now a legal right?

a. Finland
b. Canada
c. Japan
d. Sweden
7) What classic 1980's American TV show is getting another life with a new production starting in Venezuela - for a Spanish-speaking audience this time?

a. The Golden Girls
b. Alf
c. Cheers
d. Moonlighting
8) An AIDS ad campaign in Germany showed actors portraying Adolph Hitler, Saddam Hussein, and Josef Stalin doing what?

a. Doing intravenous drugs
b. Having sex
c. Going to the dentist
d. Going to the bathroom
9) When 2 American journalists were detained in North Korea, Secretary Clinton compared North Korea's leaders to unruly schoolchildren. What did the North Koreans in turn compare her to?
a. A funny lady
b. A primary schoolgirl
c. A pensioner
d. All of the above
10) Many Australians were mired in grief earlier this year due to the death of which animal?

a. Sam the kangaroo, who was the nation's kangaroo boxing champ
b. Sam the koala, who was rescued from wildfires
c. Sam the emu, who was the model for the nation's coat of arms
d. Sam the kookaburra, who was the mascot of the 2000 Sydney Olympics








Answer Key: 1) a 2) c 3) c 4) d 5) a 6) a 7) a 8) b 9) d 10) b