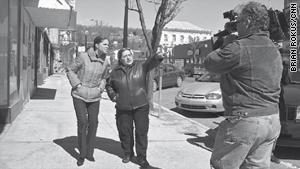 CNN's Soledad O'Brien on the streets of Shenandoah, Pennsylvania, with Lou Ann Pleva.
STORY HIGHLIGHTS
The "Latino in America" book is a companion to the CNN documentary of the same name

CNN's Soledad O'Brien brings readers closer to today's Latino experience

The book contains personal accounts not seen in the documentary

In chapter 4, O'Brien discusses a town where an illegal immigrant wound up dead.
The following is an excerpt from "Latino in America" by Soledad O'Brien with Rose Marie Arce. Published by arrangement with Celebra, a member of Penguin Group (USA), Inc. Copyright (c) Soledad O'Brien, 2009.
(CNN) -- The morning I drove to Shenandoah, Pennsylvania, the air was crisp with the end of winter. The mountains were brown and the trees were bare. Few mining towns are what you'd call beautiful, but it's especially hard when the earth is cold and colorless. Enormous metal windmills punctuate the empty landscape as you drive into Shenandoah and you realize you're not entering one of those picturesque American towns that sells taffy and still has rotating barbershop poles on Main Street.
Everywhere you look in Shenandoah there are signs of a better past: an arrow pointing toward a defunct Tastee Freez, a shuttered shop for precious antiques, out-of-date announcements for places where you used to be able to dance. Today's town feels almost vacant. Empty front porches face empty front porches with broken stairs, there are few open businesses and much of the town seems to have been painted and repainted in industrial white.
Shenandoah was settled by Eastern Europeans, who were drawn by the discovery here of anthracite coal. From the time it was incorporated in 1866 to the 1920s, the population boomed to nearly 30,000. The oldest residents still smile at memories of the prosperity of that time, when evening drew the miners down from the hills to greet their wives and children and have a drink. These are the kinds of towns journalists used to write about during the last economic decline: thriving U.S. towns undone when industries, like manufacturing, collapsed or went away.
Pennsylvania has many of these stories of wrenching endings: the death of steel in Pittsburgh, the closing of the Breyers ice cream plant in Philadelphia. Shenandoah was decimated by the end of the anthracite coal industry after World War II. The mines shut and the men stopped coming down from the hills. Shenandoah was once the most congested square mile in America, according to "Ripley's Believe It or Not!" The population has dropped to just over 5,600 in the 2000 census. Ultimately, migration killed this town.
I had come to Shenandoah to tell the story of how residents were so frightened by immigration that a young man named Luis Ramirez ended up dead. Luis came to Shenandoah looking for work and found the town friendly enough that he invited his mother to visit him from Mexico one year. He had distant cousins working at the local restaurant and friends close enough to be called "best friends." He was undocumented, but he was making a life in Shenandoah. They introduced Luis to a girl named Crystal Dillman, who had just had a cute baby girl with soft brown curls.
I met Crystal Dillman at her two-story home in the center of town. Crystal has pale white skin and reddish hair and talks like she's been through a few things that need mending. Hers is one of the repetitive houses with broken front porches and white paint. She says she rents the house with government assistance. We met just before Easter and the windows in town were decorated with plastic rabbits and colorful cardboard eggs. Crystal was collecting toy eggs from Burger King Kids Meals to give to her three kids as a surprise.
Crystal is a Shenandoah resident whose ancestors worked the mines, and she went to the same high school everyone else did. She says the town has been empty for ages. She told me folks on public assistance hang out in the emptiness looking for something to fill their time. Crystal was taunted in school about just about everything: She was too fat, too dumb, too alone. She spent a lot of time protecting her sisters, who also had few friends. She said she felt like her own mother didn't want her and now, she told us, her own father barely speaks to her. She has five sisters and three brothers and says it is a struggle to maintain a relationship with them.
At school Crystal rebelled and found friendship among the growing Mexican population. They were outsiders, too. She felt like her school was run by the football team, which was all white and had relatives who worked in law enforcement or in the town's few successful businesses, like Mrs. T's Pierogies. The teenagers liked to make jokes about the Latino kids, who were relatively new to town and had trouble learning English. Crystal and her sisters liked the newcomers, so the other kids didn't like them.
When Crystal left school, she got pregnant by a biracial kid who left her, she said, because he realized he didn't want to be a father. When Crystal met Luis she was a tough cookie with a loose temper who'd become exhausted by fending for herself. She looked at Luis and saw a guy with some fight in him but who was also surprisingly sweet and funny. Crystal was impressed by how hard Luis worked in a community where that was a rare quality. Here was a guy who would pick cherries one day, fix a roof another day, work all night if he needed to and was never without money, even though he couldn't legally work.
Luis started to treat Crystal's three-month-old daughter as his own. He learned English at a breakneck pace. She loved that he was Mexican and made silly jokes. He would play her Spanish songs and his mother, who loved Crystal, taught her Spanish. They had two more kids together, and one summer Luis and his white girlfriend dressed their three children in the colors of the Mexican flag for Shenandoah's Heritage Day Parade of Nations.
From early in their relationship, Crystal said, they wanted to get married but Luis didn't have the identification required to get a marriage license. Crystal says he began a process that took years, petitioning through the Mexican consulate, gathering birth certificates and documents. Crystal said he finally had an appointment at the consulate in Philadelphia in July 2008 that would have made it possible for him to marry Crystal and begin the process to become a U.S. citizen.
On July 12 Luis was walking across the park on Vine Street in Shenandoah to meet Roxanne Rector, Crystal's sister, when six white teenagers, who all played football at the local high school, approached her. Roxanne is a wispy little brunette, very soft-spoken and not as tough as her sister. "The teachers all love these teenagers," Crystal said. "They're like the school heroes. They play on the football team." Roxanne remembers the teenagers asking her if it was past her bedtime. Roxanne just wanted to disappear. They challenged her for hanging out with this unknown Mexican guy. Roxanne said one of the teenagers told her to get her "dirty Mexican boyfriend out of here." Luis exchanged blows with one of the teenagers. Roxanne says after a few pushes, she and Luis walked away and called for help from their friends Arielle and Victor Garcia, who were close by.
Eileen Burke's house is right in front of where the attack occurred. She is a former Philadelphia police officer who left the force after her leg was pinned between her patrol car and a drunk driver in 1995. She got an injured-on-duty pension but couldn't live off $30,000 in Philadelphia, so she returned to Shenandoah, her hometown. Eileen is a strong woman with a square face who never felt like she fit in around Shenandoah. People treated her poorly.
That day Eileen had driven 12 hours with her roommate to get home from a trip to Myrtle Beach, South Carolina, and was lying around her room being exhausted when she heard a group of teenagers screaming "the F word and saying 'Mexican' this and 'Sp**' that." She had complained to the Shenandoah police about noise from the park in the past but they didn't treat her seriously. "Go get an AC," she said they told her. When she heard the voice of a woman screaming "stop kicking him, stop beating him," she decided to turn the AC off and stepped outside.
Arielle Garcia later told a CNN reporter that she arrived just as Luis was walking away. Then the kids started screaming racial slurs, like "Go back to Mexico." Luis got mad and came back. But this time the rest of the teenagers joined in and the fight ended up six to one, according to Arielle. "My husband tried to break it up. It happened so fast. My husband tried to get kids off of him," she said. Hers was likely the voice that alerted Eileen that something awful was going down.
From her window, Eileen says she saw this group standing in a circle around someone screaming ethnic slurs. She calls 911 and throws on some clothes. She says 911 in Shenandoah frustrates her. She reports a fight, begs for an ambulance, gets transferred. She finally throws down the phone and runs out. As she's stepping out onto her porch she hears this horrible sound.
"It was like a poof. Like when your car hits a pothole of water, really terrible. I'm a cop so I know what that sound is. You know how it sounds when someone gets a blow," she said. As she rushed down to see what's happened there are only two teenagers standing close enough to have delivered the blow, she says, Colin Walsh and Brandon Piekarsky. Piekarsky rushes toward her.
"He puts his chest into me but as a police officer I know I can't touch him. He looked totally startled when he realized that I know him and Colin."
The two of them run off and Eileen is left standing there with Arielle and Luis.
"I'm thinking the 'poof' sound was from his chest. Foam was coming out of his mouth. He was convulsing. We called it the death rattle when I was a cop in Philly. I just kept saying to him to please hold on. I didn't want to even try CPR because of his condition," she said.
Off in the distance she says she saw car lights coming down the street the wrong way. She says Colin kicked the door of a parked car and yelled to her "you effin' bitch." Down the street she says she also saw Brandon.
"The blondie is banging on the hood of a car and yelling 'you tell your effin' Mexican friends to get the hell out of Shenandoah,'" Eileen said.
She asked Arielle if she knows them and Arielle said that they are schoolmates. Eileen said police cars took a long time to arrive and when they did they were not from Shenandoah but from neighboring towns. She says she ran up to each of them urging them to get an ambulance there. Shenandoah Police Chief Mark Nestor says the response was quick and that he is proud of the job his officers did that day. He says small towns typically pool police resources and have whatever agency is available respond first. It's not unusual that officers from other jurisdictions would be the first on the scene, he said. He is satisfied that the Shenandoah officers who did work the case did their best that day.
"They kept telling me to shut up. It was unbelievable. They didn't even approach him and he's lying on the pavement obviously in a lot of pain. He is calming down. I'd say going deeper and deeper and all I get are these questions about whether he'd been drinking and if anyone knows how to spell his name," she said.
She says she heard neighbors talking about the teenagers needing to call their mothers. She says Brandon's mom works at a local bar and dates a police officer.
"No one is offering to chase the boys. It was unbelievable. I'm sitting on my stoop until 2 a.m. and there is still no crime scene, no one chasing suspects, no one even interested in interviewing me or getting a description. Luis just lay there. All the cops are in the park looking for something, talking on their cell phones. This was an open-and-shut case where all these kids should have been picked up and charged that night. I was sick. I couldn't breathe. ... He's not an animal. It's human life."
What Roxanne remembers was that three of the teenagers were kicking Luis in the head over and over. She recalls his head banging against the asphalt and foam dripping from his mouth. His head was so swollen Crystal has nightmares about the way he looked as he died slowly in his hospital bed. The crucifix he wore had made an imprint in his chest. Crystal still has it. Luis Ramirez was 25 years old.
A day after the incident, Eileen says that Crystal came by with Luis' aunt and uncle to thank her.
"I didn't have the heart to tell them how much he'd suffered. That he was out on the street making a death rattle and no one was doing a thing. I could barely walk out the door and look at the spot the next morning."
Luis Ramirez was declared dead on July 14. The police criminal complaint signed on July 25 had an ominous description of the attack saying the boys had told Roxanne to "get your Mexican boyfriend out of here." They faced local and federal investigations because of the apparent racial nature of the crime.
At the time of Luis' death, Colin Walsh was 17 and Brandon Piekarsky was 16, but they ultimately were made to stand trial on state charges of homicide and ethnic intimidation as adults. Derrick Donchak, 18, was charged with aggravated assault and ethnic intimidation. Frederick Fanelli, a lawyer for one of the accused, told CNN shortly after Luis' death that he would investigate whether Luis had a criminal background. He publicly questioned why the engaged father of three was walking on the street with his fiancée's sister. "Let's call it what it was: a street fight, a chance encounter with a tragic outcome," said Fanelli, who represents Piekarsky.
"They called each other names. The victim was calling them obscenities, vulgar names, and they said things back to him that would hurt him," said Roger Laguna, a lawyer for Walsh.
"It just means it was a foulmouthed argument, not ethnic intimidation."
Months later, Walsh admitted to knocking Luis unconscious and pleaded guilty in federal court to violating his civil rights. He will serve at least four years in prison under sentencing guidelines. Walsh testified against Donchak and Piekarsky, whose mother, Walsh said, lived with one of the police officers who investigated the case. Their defense lawyers argued in court that Luis was the aggressor and tried to pin the fatal kicks on Brian Scully, a fourth attacker who faced charges in juvenile court of aggravated assault and ethnic intimidation. Walsh testified that he shouted ethnic slurs at Luis and told him to "go back to Mexico."
Crystal didn't make it to the funeral in Mexico. Later, she rode buses for three days with three fidgety children to go see her fiancé's family in their small Mexican town. She still speaks a smattering of Spanish to her children. She can't collect Social Security because Luis was not a citizen, regardless of whether his employer paid taxes on him as a laborer, and Crystal lost her job shortly after he died and says no one in the town will hire her. She wants to move away from Shenandoah, because everyone accuses her of giving the town a bad name, but she has no place to go.
The walls of Crystal's house are decorated with pictures of Luis playing with his children. Crystal is homeschooling two of her sisters. Roxanne is one of them and little Eduardo lives on her lap. The other sister also helps with the kids. Crystal fantasizes about convincing her mother to give up custody of these two sisters so she can adopt them and move away. Her oldest daughter is developmentally disabled and she needs help taking care of her. Her youngest are shy, quiet kids, not old enough to say much. They're identical to their father, whom they still ask after. This is one very sad and disoriented young lady.
Historically, hate crimes have brought tensions of race or ethnicity to a boil. They are signs that a debate over something else has gone too far. Emmett Till, a 14-year-old black youth, was caught flirting, it was said, with a shopkeeper's wife in the Mississippi Delta in 1955. Two white men, the shopkeeper's husband and a relative, were acquitted by an all-white jury of kidnapping and murdering Emmett despite eyewitness evidence against them. He was beaten and his eye was gouged out; his attackers shot him through the head and tied a 70-pound piece of cotton ginning machinery, a fan, to his neck with barbed wire before they threw him into the Tallahatchie River. The anger over Emmett Till's lynching helped propel the civil rights movement.
Hate crimes have never gone away, but what they mean about a community and its motivations is no longer as clear. Our nation was electing its first black president, the son of an immigrant, just as the debate around Latinos and immigration had become fierce and racially antagonistic at times. Organizations that track hate crimes and study nativist movements say that Ku Klux Klan-type groups have shifted their focus from African-Americans and Muslims to Latinos. There was a 40 percent increase in attacks against Latinos from 2003 to 2007 at the same time the Latino population grew 16 percent, according to the most recent FBI statistics. Those numbers come from police departments that voluntarily report figures to the federal government and can define a hate crime any way they want.
The numbers of reported hate crimes are so few that they may only hint at what is really going on out there. The disturbing human stories behind these statistics are often not told by the press. Take Pedro Corzo, a Cuban-born immigrant with a management job with Del Monte who in 2004 was shot to death in Arizona by gunmen from Missouri, one of whom was 16. The two men shaved their heads and drove around Arizona looking for Mexicans to shoot. They are now serving life sentences for murder.
That same year in Tifton, Georgia, which is about 160 miles from Atlanta, a trailer park known for housing immigrants had been targeted for home invasions until one night a group of robbers went on a rampage. They murdered six Mexicans and beat five others. At first, the town came down hard. The district attorney announced he'd seek the death penalty and the mayor displayed the Mexican flag over city hall to honor the victims. The town was united against the killers until callers to the local radio station began voicing their resentment of immigrants.
In December 2008, the public got a sobering glimpse at how vicious the attacks had been. At a sentencing hearing for one of the four people accused of the murders, Brenda Perez testified that after her husband had been shot in the head, she was raped multiple times while her baby daughter screamed by her side. She sent her 7-year-old son to call 911. The area where she lived had filled up with immigrants coming to south Georgia to work. The people who attacked them were black and poor. Jamie Underwood pleaded guilty to all four indictments against him and was sentenced to 120 years on three of them. The prosecutors wanted the death penalty against him and his co-defendant, Stacey Bernard Sims, but the case has been delayed because the perpetrators have been too poor to mount a reasonable defense. The two female defendants were accused of transporting the men to the attacks.
In 2006, the Web sites of neo-Nazi groups tracked by the Southern Poverty Law Center carried exhortations that opponents of immigration should steal money from illegal immigrants, discourage their children from going to school and threaten them with physical harm. The Web sites they track reflect the direction the attacks are taking.
David Ritcheson, 16, testified before Congress about how a group of skinheads jumped him after he kissed a white girl at a party. He testified that he was called a "sp**" and a "wetback." Two of the attackers broke his jaw, knocked him unconscious, burned him with cigarettes, carved a swastika into his chest, scalded him with bleach and sodomized him with a patio umbrella pole. David helped the Anti-Defamation League create an anti-hate program at his school, but months after the attack, he committed suicide.
I interviewed his parents following the attack and they were barely able to hold it together, they were so devastated. David's mother told me he was confined to a hospital bed and was so depressed he could barely say anything other than to keep asking "Why?" His mother told me she knew it was a hate crime.
"How do you put a swastika on someone or burn them? You have to hate someone to hurt someone like that." It was absolutely heartbreaking to talk with her. There are so many stories of beatings and taunts and fire bombings and cross burnings that I can't even digest them all. The attackers are almost always white, but they are sometimes black and even Latino.
Each attack is just more astonishing than the one before it. East Hampton, a place where New York swells go to vacation on weekends, was the site of a neo-Nazi skinhead attack on three Latino teens who were terrorized with a machete and a chain saw. The attacks in Suffolk County mounted until they struck the area near my hometown. A group of seven boys, who allegedly got together each weekend to intimidate Latinos, went on a spree of attacks that culminated in the stabbing death in Patchogue of Marcelo Lucero, an Ecuadorian immigrant who had lived in this country for 16 years. The attackers, all high school students from Patchogue-Medford High School, face charges in eight attacks, including Lucero's murder.
The latest attacks against Latino immigrants drew media attention, but did not ignite passionate national debates over civil rights. Once the legal status of the victim is discovered, the crime itself gets overshadowed by the debate over illegal immigration. Towns like Shenandoah are left struggling to answer the question of whether the criminal actions of a few individuals against a stranger say something more profound about the town itself.
In 2006, Hazleton, Pennsylvania, Mayor Lou Barletta attracted national attention for passing an ordinance to discourage hiring or renting to illegal immigrants by fining landlords who got caught. Several other U.S. towns copied the ordinance. Some piled on English Only laws. Barletta became a notable figure in a backlash against illegal Mexican immigration that was played out each night on cable television and raged on the Internet. Civil rights advocates said the law led to racial profiling. A Puerto Rican physician in the town called in LatinoJustice PRLDEF (Puerto Rican Legal Defense and Education Fund), a civil rights advocacy group, because he was worried about how he would be treated after the ordinance passed. Puerto Ricans are U.S. citizens but he felt victimized by the ordinance because he felt it challenged his ethnicity, not his immigration status. That call led to a lawsuit by LatinoJustice saying the ordinance had denied due process to U.S. citizens and noncitizens who are both white and Latino as this town tried to enforce a federal law.
In Hazleton, the mayor and his opponents went back and forth. Barletta claimed Latinos had driven up crime rates. LatinoJustice presented figures that showed crime had fallen since the arrival of the newcomers. Barletta accused the new immigrants of stealing jobs. The local Chamber of Commerce credited immigrants with revitalizing downtown. The mayor claimed that the ordinance was a success because it had driven thousands of illegal immigrants from town. Business leaders pointed to shuttered stores and argued that was a bad thing. Barletta said landlords and business owners were simply asking for basic documentation. Latinos who are U.S. citizens complained to the ACLU that they had been singled out. In 2007, a federal judge struck down the law as unconstitutional, putting the debate on hold so an appeal can work its way through the courts.
Cesar A. Perales, president of LatinoJustice, said that the trial debunked the accusation that illegal immigrants were increasing crime with testimony that showed that four of 428 violent crimes in Hazleton in the last six years could be connected to illegal immigrants. He notes that the local Chamber of Commerce supported the lawsuit because the newcomers had helped the economy, not hurt it, even opening several new businesses that created jobs.
"What is clear is that this had been a dead town, shuttered storefronts literally, until Latinos revitalized the town. There are many of these East Coast towns like Hazleton and Shenandoah, particularly coal mining towns, where young people just left. The newcomers create jobs. They don't take jobs. Jobs went begging before they got there; there were undesirable low-paying jobs that went unfilled. That can't be refuted. Every time government goes in to look at the impact, they find the same thing: that there is a net positive in terms of the economy all around. But there is racial tension because you have a town full of very, very poor white people living in terrible conditions and they see other people coming in and moving into empty homes and opening businesses. The guys who killed Luis Ramirez were not irritated that he was taking their jobs; they were irritated because he was an older Latino guy walking down the street with a young white girl."
But Lou Barletta pointed to job data from around the country that showed that illegal immigrants do take jobs from white people when they move into a depressed town because they are willing to work for lower wages. He is such a popular mayor that he was a candidate for both parties when he was reelected in 2007, but lost a race for U.S. Congress in 2008. He has said he will take his case to the U.S. Supreme Court and has repeated his claim that he will remove illegal immigrants from his town. Back when the ordinance was passed, Barletta wore a bulletproof vest to the proceedings because of what he called a surge in crime by illegal immigrants. He pointed to a 75 percent drop in business at Mexican restaurants as a sign he was getting rid of illegal immigrants. This is a politician who is clearly onto something.
Shenandoah is similar to Hazleton in some respects. It was once an empty town that filled up with immigrants looking for jobs, raw-handed worker bees who built a community. For Shenandoah, the last census recorded a nearly 10 percent drop in population and counted 80 men for every 100 women over the age of 18 . The per capita income in 1999 was $12,562. The average age was 45. Only a fifth of the population has children. These are the signs of a town still dying, a place that's emptying out. There's no daily newspaper in Shenandoah, no way to communicate simple information about day-to-day life and its challenges.
The school is a mirror of the community. The kids who play on the sports teams, like the accused teens, are lionized. Brian Scully said at the trial that he had known Derrick Donchak since they started playing Little League in the third grade. Over the years, they played baseball, basketball, track and field, and football. They are the Blue Devils and the football team is the Devil's Pride. They are winners at something in a town that is wanting for winners. The changing demographics in the town are reflected at the high school, of course. Twenty years ago there were 504 white kids, according to the U.S. Department of Education. There was not a single black or Hispanic teenager. In 2007, there were 461 white kids, 12 African-Americans and 56 Hispanics.
In Shenandoah, Latinos filled some of the empty space and created opportunities. The town has plenty of cheap housing. As the economy has continued to sour, investors have snatched up three-bedroom homes for $15,000. I met more than one person who said they owned dozens of the two-story white houses that fill the town's center. The landlords need renters and they'd prefer someone who isn't relying on qualifying for public assistance to pay their way. Every afternoon in Shenandoah, carloads of Latinos in work shirts come home to the rental houses, just like the miners used to come down from the hills. The workers say the town has fields nearby with fruit to be picked and homes with roofs that need mending. They see the warehouses full of heavy boxes that need to be moved and the trucks in need of unloading.
The problem is that there are non-Latino folks in Shenandoah who would also like to work and bring the town back to what it once was, not what the town is becoming. In an editorial, the closest newspaper, the Pottsville Republican & Herald, described the new immigrants like this:
"Added to its melting pot of largely white European immigrants -- Irish, English, Welsh, German, Italian, Polish, Lithuanian, Ukrainian, Russian, Slovak -- who swelled its population to more than 30,000 during the anthracite boom of the early 20th century, are Latinos from various sources, blacks, Indians and Asians."
Some residents in Shenandoah simmer with the kind of resentment that keeps a guy sitting on his front porch cursing the guy who got up to beg for work that morning. It does something to your head to sit around remembering that things used to be better and not be able to bring them back.
In 2008, the Kaiser Family Foundation asked workers earning less than $27,000 whether they thought illegal immigrants take jobs from legal residents, and nearly half responded that they do. Eighty percent of the same population conceded that neither they nor their family had been affected negatively by illegal immigration. The more money folks earned, the more educated they were, the less they believed immigrants were a threat to them.
I interviewed a man named Joe Miller who lives in yet another of the repetitious white houses. Miller's front porch is filled with plastic toys and has a trifecta of flags flapping in the wind -- the American flag and those of the Confederates and the U.S. Marines. He walks with the toughness of a mountain man but has a gentle way with his daughter. Miller had worked in a plant in Hazleton, where he estimates that 75 percent of the workers were working illegally, taking jobs he thinks belong to white people. He came to that figure because he dated a woman who was undocumented, and since she was, he assumed nearly all the Latinos probably were, too.
"It bothers me they're here illegally," Joe told me. "Why is that so frustrating?" I asked.
"Well, for the most part they take a lot of jobs."
"Like what kind of jobs? What job did you lose to someone?"
"I haven't lost any jobs."
"What job did your friend lose?"
"My friends haven't lost any jobs."
"So who's losing jobs?"
"Sorta white people that can't ..."
"Generally?" I ask.
"Generally. Blacks. Blacks. I would say for the most part."
"I smiled because the guy with the Confederate flag is defending the black people," I told him. "Is there an irony in that?"
"No," he says. And then we're both smiling.
Joe believes that Luis Ramirez's death is an unintended consequence of the immigration debate, a street fight gone awry. If you talk to him long enough, you'd think it was Mexicans who closed the mines long ago. Joe has attended rallies where a group called Save Shenandoah has been wrongly branded as racist. Crystal showed up at one of the rallies and unfurled a Mexican flag, leading to a harsh verbal confrontation. Joe says she has shamed the entire county by siding with immigrants rather than Americans. Loud and provocative people like Joe who are willing to talk to the media have become the face of towns like this when most people think it best to be silent.
Lou Ann Pleva has refused to be quiet. She is gray-haired and stout, with a pretty face and an easy smile. She comes off as an essentially optimistic person. The day after Luis died, she picked up a flier at a supermarket asking people to pray for him.
"It was unthinkable. How could kids do this? How could kids who were raised in my hometown do this?" She asked herself, "What happened that night? What was this about?" She had lived through the pain of the town's decline after the mines shut. "It was like a domino effect. Everything, one thing closed, the next thing closed, our hospital closed, the employment office closed. That ran around for two weeks as fodder for some really good jokes."
Pleva's grandparents came from Poland and Germany. Her grandfather was a full-fledged miner at the age of 10, while her grandmother worked in a garment factory. Like a lot of people in declining small towns, Lou Ann moved away. She raised her children elsewhere, worked as a newspaper reporter for a time. She said she came back because "this is the only square mile on the planet that I love." To her, the windmills on the mountaintop look like installation art. The fact they stand where coal was once buried fills her with hope. Maybe someday Main Street will be full of proud people again, mining a new type of energy. Instead, she sometimes sees a town where a lot of people just can't let go of the tragedy of the past. She bristles that her town of hardscrabble immigrant miners is being recast as a home to hateful racists.
"Was this about hate?" I asked her.
"I don't think so. I don't think it's hate," she said. "I honestly don't think it's hate."
"Ignorance?"
"Ignorance. A lack of opportunity to travel in the world. To be among different cultures, all day, every day. To experience those things, when it's something new and it's the first new thing in generations. It's easy to say, 'That's too strange.' We don't want that here. We're trying desperately to hold on to what we were. We want to go back to what we were. We're not prepared for a future. We're reminiscing and nostalgic about our past. We want the past to come back."
In the days after the attack, Lou Ann Pleva helped organize a unity rally. She told the Mexicans that they were welcome in her town. While she wasn't speaking in favor of illegal immigration, she drew ample criticism from her neighbors when the press interpreted it that way. She said that as a former newspaper reporter she likes to operate in facts, and sees the misrepresentation as typical of the coverage Shenandoah got in the aftermath of Luis' death. With no hometown newspaper, she thinks the townspeople operate on sensationalism and rumor. Presumptions become truths and lies get spread easily.
To understand the complexity of any crime, you have to be at the scene early enough to talk to people before some get fearful and clam up and others make up their own truth. Emanuella Grinberg, an eager young writer for CNN.com, went to cover the story of Luis' death in the early days, when most of the media wasn't paying attention. She discovered that Brandon Piekarsky is a National Honors student who made the varsity football team as a sophomore and works part-time at Sears. Derrick Donchak was the team's quarterback last year and was planning on attending Bloomsburg University in the fall. Michael Walsh described his son as a straight-A student who juggled track, football, and school.
"It's very stressing because you just don't expect it. If you had a child that's constantly in trouble, you'd say, 'Hey, well, this is coming any day,'" Michael Walsh told Grinberg. "Colin was a great kid and fell into a bad situation. He never really gave me any trouble. I feel sorry for the families and anyone who cares about Mr. Ramirez." Later his son would be the only one to admit guilt in the attack.
The Pottsville Republican & Herald reported extensively on a Sunday afternoon healing service attended by just 50 people:
"Resident Thomas F. O'Neill, speaking after his father, Shenandoah Mayor Thomas F. O'Neill Jr., said he had met Luis twice in passing, but never had a conversation with him. 'That's how most of the people in this town are viewing Hispanics,' O'Neill said. 'They're just there.' O'Neill said Shenandoah residents should take the time to learn about their Hispanic neighbors, and said the town's Hispanic population is 'vital' to its future and heritage. People in the town sounded very thoughtful in those days when the conversation was limited to Luis' death. Later, O'Neill would quietly resign.
When the conversation turned to immigration and tensions surfaced, the characterizations turned ugly. I asked Lou Ann if it surprised her that outsiders who had followed the case might ask in what kind of place do football players and honor students kill a total stranger because he is a Mexican escorting a white girl?
"It's easy to see how people could think kids in this town are raised with hate. It's very easy for just anybody to take a quick glance and say, 'That's what that's about,'" she told me. "But look deeper and you'll see it's not about that. It's about fear. It's about parents with kids who are facing possible life sentences in prison who are so afraid that this is not the dream they had for their sons. That they'll say anything to defend their kids. Who could argue with that? Really, who could argue with them saying anything? Or not just with the parents but the people who feel protective of the kids."
The arrival of Mexicans, local lore has it, began with an Irish priest who invited some of them to his church from places like Reading and Hazleton. I found nothing to verify that tale but, like everything else in a small town, it gets repeated enough to become local wisdom. Townspeople talk a lot about the newcomers, as if there were so many, but officially the town is 97 percent white and 2 percent Latino. The 2 percent includes Carlos Ramos, a man of Puerto Rican descent who is dating Jenny Mease, a white woman. He came to Shenandoah hoping to buy cheap real estate and flip it for a profit. The first time he rode public transportation with Jenny he said people made nasty comments. He says the issue is not immigration; it's basic racism.
"Some of them have never left here, they stayed here, they got jobs here, they've never been out of this town, so when they see a person of color come to this town or speak a different language, they lose it," he said.
Carlos is stunned how teenagers will say racist things to him as he walks down the street. Carlos thinks the claims of immigrants stealing jobs are baseless. He's seen no evidence that illegal immigrants have made life harder for people like him who are U.S.-born.
"If they read the newspaper there is a police blog in the newspaper and if they look at it and read it they will realize that 95, maybe 98 percent of the people that are caught dealing drugs, heroin, meth, cocaine, marijuana, they are all white folks," he said.
Carlos Ramos is about fed up with Shenandoah. He is afraid that what happened to Luis could happen to him, someone who has no connection to illegal immigration. He said he was making small talk with a white woman outside a Turkey Hill once when a guy tapped him on the back and said:
"What the hell are you doing talking to my woman, you freaking brown n*****, you freaking s***?" The man pulled a knife on him. Carlos did what Luis either could not do or chose not to do: He ran away. He said that days after Luis died, a group of folks dressed as Klansmen had a little rally in the park near his home.
Carlos and Jenny have two children and he feels like they will be associated with Luis.
"If you're Puerto Rican, Dominican, or whatever, you know to them you are considered a Mexican," he told me. "You don't matter, you're a Mexican. I can't tell you how many times I had people ask in the bars, 'Are you Mexican? Are you Mexican?' No, I'm not, I'm Puerto Rican. ... They ask me for green cards and stuff like that. I say, 'Hey, man, I'm Puerto Rican. I was born in Puerto Rico and raised in New York City.' "
He says a city official told him they don't like his "kind" living in the town and pushed him about having an occupancy permit for his house so he could count how many Latinos are in town. He shakes his head for about the 20th time during our short conversation. He is exasperated and emotional and is talking to me as much to vent as to express a different point of view. Carlos has simply had enough.
So much was lost in the asphalt on Vine Street. Crystal Dillman also wants to leave town. The youngest of her children looks just like Luis and all these months after his father's death, he still races to the door expecting Daddy to come home. Crystal is obviously depressed and getting very little help. Luis gave her a family structure and security that she didn't have on her own. Luis was her happy, hardworking guy, handsome enough to make other girls envious with his buttery skin and shiny dark hair.
The story line I saw focused quite a bit on angry white folks whose jobs were stolen by illegal immigrants from Mexico. There wasn't much discussion of what bred the anger in this vulnerable small town; no public debate about increasing economic development for the citizens who live here, improving their schools, providing cultural stimulation of any kind. The angry voices of guys like Joe Miller got more time than that of Lou Ann Pleva. Shenandoah was in trouble even before the recession and towns like this are erupting with frustration. When the media singles out immigration as the culprit, we give people a local face to attack. All that some folks in Shenandoah seem to really know about the Mexicans is that they're making trouble over in Hazleton and they're working places when most white people are not. And Luis Ramirez paid with his life.
The case was tried in the Schuylkill County courthouse just 15 minutes from Shenandoah before an all-white jury of locals and a press corps limited to a dozen or so small local newspapers and TV stations. The county had decided to try Brian Scully as a juvenile and use him as a witness in the trial. Since Colin Walsh agreed to plead guilty, he would also testify at this trial. So Brandon Piekarsky and Derrick Donchak were left to face a public jury trial on their own.
The cornerstone to the courthouse was laid in 1887, when there was plenty of coal money around. It is a beautiful building. The walls are decorated by large and stunning black-and-white photographs of miners and mining. Presiding Judge William Baldwin, who has served for 22 years, said the courtroom he chose was the second largest in the northeast.
Baldwin was ready for the trial to be a big deal. But when it finally rolled around in April 2009, it was quick and poorly attended. The large ornate room he had chosen was imposing for a trial that had teenagers as defendants and witnesses. Yet sitting in the wood-paneled room beneath the ceiling of bright stained glass were just the principals and their families, a smattering of supporters, and Crystal Dillman, with a lawyer from the Mexican American Legal Defense and Educational Fund (MALDEF) and a representative of the Mexican consulate, Enrique Luis Sanchez. Their presence was often mentioned by locals as an example of outsiders who came to taint their town.
"I think by then people were scared and that's why we had to be here," said Gladys Limon of MALDEF. Limon says MALDEF sent her to monitor the prosecution, which she found to be lackluster.
"The local community, and especially the Latino community, feels intimidated by local officials and officers," Limon said. "They are very oppressive and corrupt. The community has learned through their own experiences that they should not speak out against them or be too public about their views, and instead they keep quiet. This is no longer a conversation. There is basically no protection by the local police. Community members view them as a gang."
The representative of the Mexican consulate did not speak to the press other than to say he was monitoring the case because one of his country's citizens had been killed on foreign soil. "If an American went to Mexico and got killed, wouldn't the U.S. consulate be on the scene?" he asked. Both said they had made no efforts to encourage protests or shows of force in the courtroom by local immigrants or Latinos.
The community did all it could to keep calm. The Pottsville Republican & Herald broke the story that administrators from Shenandoah Valley Junior/Senior High School were attending the trial to make sure none of the students were there. The superintendent threatened that they would be banned from graduation activities if they were caught anywhere near the courtroom unless they were relatives of the defendants. An editorial pleaded with anti-immigration activists from a group called Voice of the People to not protest at the trial:
"By demonstrating against people who are protesting violence and murder, VOP [Voice of the People] members will accomplish exactly what they claim they are trying to prevent. They will demonize themselves as extremists who condone violence against immigrants. ... They will reinforce the stereotypical views of outsiders who see coal region residents as intolerant, backwater boobs." There were never large protests.
The county set up metal detectors and limited access to the floor of the courtroom to registered press and people attending the trial. The teenagers and their families were isolated in the law library on a different floor. Crystal Dillman and the MALDEF lawyers were kept in a room belonging to Victim's Services. The two sides never had to cross each other in the halls. Neither side said anything much to the press. Inside the courtroom, the case had enough drama and confrontation on its own.
The day the prosecution called Brian Scully to the stand it was not totally clear why this now 18-year-old man had ended up with a separate trial in juvenile court. He looks about the same age and level of maturity as the others. The night of July 12, 2008, he said, he had gone to Derrick's house on Coal Street to hang out with him, Ben Lawson, Josh Redmond, and Brandon Piekarsky. Their plan was to meet Colin Walsh and hang out at a spot in the woods they called "the Creek." They wanted to drink some Mickeys, a malt liquor the guys liked. They made a stop at a Polish-American block party and then left to go back to Derrick's house.
They were on the street where Crystal lives now when they came upon Luis and Roxanne. Brian recalls saying to her, "Isn't it a little too late to be out?" Luis responded by saying something in Spanish, which prompted Brian to say: "Go back to Mexico." According to the trial transcripts, Brian describes the attack this way in a string of answers to questions from the prosecutor: Brandon and Luis run toward each other and end up wrestling. Brandon throws a punch that connects, then picks up Luis and throws him to the ground, as if he was tackling him in a football game. Brandon tries to kick Luis, but trips. So Derrick starts punching Luis in the head while he is lying on the ground. Luis tries to block the blows with his hands. Brandon gathers himself and kicks him multiple times. At some point Luis gets up, punches are exchanged and the group disperses. Brian recalls yelling, "Go home, you Mexican motherf*****" toward Luis. He remembers that Derrick says "f*** you" several times.
I must say it's amazing how everyone involved with this case is so shy about saying "f***" but doesn't mind getting drunk and beating each other up. Brian says Luis hit him in the head and he pushed him off. Then Colin stepped in and punched Luis, knocking him out. Luis' eyes were closed and he wasn't moving. Brian testified that he tried to kick him but lost his balance and missed. So Brandon kicks him in the head and they run off into the park.
Colin Walsh's testimony followed a similar trajectory. The difference is that Colin owned up to his role in the attack. By the time he took the stand he had pleaded guilty. He said that the teenagers had been his good friends his entire life. Brandon and he had played football and run track together. He was now testifying against them at a murder trial.
"I was involved with a group of people that used force to intimidate this man who was a Mexican because of his race and because he lived in the community ... resulting in death," he said on the stand.
Walsh's account also has the teenagers using racial slurs, but he doesn't describe a fight. He says he was not scared of Luis because "he was smaller than us and [there were] six of us and one of him." He also recalls Luis walking away from them and says that Brandon "sprinted" after him with Brian. When Luis put his hands up in a fighting stance, Brandon tackled him. Then he says that Derrick punched Luis in the head "probably about 10 to 15" times. After he is on the ground, "we are all kicking him," Colin says.
At that point, Victor and Arielle Garcia arrive and it looks like the incident is going to come to an end. But Colin says that Brian and Luis start up again and Colin punches Luis in the face. Colin describes the blow as strong enough to knock Luis out cold on the ground. Then, Colin says:
"I saw Brandon Piekarsky kick him in the head ... it was a hard kick. He took one step and kicked him in the head." Colin said he was shocked "because it wasn't really right what he did, to kick a man when he's down."
The testimony from the teenagers buoyed the spirits of Crystal, who came to court every day. What the boys were saying sounded so brutal that she thought for sure the jurors would convict. Colin said that Brandon kicked Luis so hard his shoe flew off and that he had a piece of metal that he used when he hit him. That same day a police officer from a neighboring town testified that Luis' face was swollen and that he had a shoe print on his chest. Richard Examitis of Lost Creek Ambulance told jurors he found "an assault victim" who was unresponsive and had "snoring respirations." He never regained consciousness. He never opened his eyes.
"The one time I felt certain that there would be a conviction was when the doctors testified," Crystal said. "I was so angry and upset and I thought the jurors would find these people guilty."
The medical experts told the jury that a kick to the head had fractured Luis' skull, causing his brain to swell so much that it spilled out from his head. In pictures taken of Luis in the hospital the next day, he is unrecognizable. His face is so puffy it looks distended and his head is covered in an enormous wrap of bandages.
Gladys Limon said she felt optimistic about a guilty verdict after hearing the 911 tape of Arielle reporting the crime. Her words were punctuated by fear and panic. Limon remembered the sound of the tape long after it was played in court. But both these women hoped this case was going to end in a conviction on the highest charges.
"There was this general thing that these were these good kids, they never got into trouble. Well, they weren't good kids that night," said Crystal. "People changed their stories around. They stomped on his head and left him there to die while they got their stories straight and they tried to paint Luis as the criminal."
Then there was the testimony about how the teenagers met twice to get their stories straight, both the night of the fight and the next day. Josh Redmond, one of the teenagers, said they gathered in a garage after the fight at Piekarsky's house with one of the police officers and a number of parents in an effort to protect each other. Another boy testified that one of their chief concerns was that they would not be able to play football anymore. Their goal was to cleanse their account of any references to racial slurs, kicking and the fact that they'd been drinking. The prosecution was left to convince jurors that the teenagers had somehow arrived at the trial ready to finally tell the truth.
But it didn't help them when Brian testified that he, Ben, Josh, Colin, and Brandon all gathered at Derrick's house. Brian says Derrick arrived in a Shenandoah police cruiser driven by Jason Hayes, a police officer who is identified as the boyfriend of Brandon's mother. What was discussed?
"That we should all have the same story," Brian testifies, and that they should leave out the part about the kick. On cross-examination, Brian admits that he told the other teenagers the details of the statement he'd given to police and assured them it was the lie they'd agreed on. The testimony went back and forth, with fingers pointing in many directions. At one point the prosecutor asks Brian why he is looking to protect the defendants. "They're my friends," he replies. "I didn't want us to get in trouble."
Colin's description of the gathering at the police officer's house is similar to Brian's. He also remembers Derrick riding up in a car driven by Shenandoah police officers Jason Hayes and Bill Moyer, whom he had known all his life. He identifies Hayes as the boyfriend of Brandon's mother. He had slept over at Brandon's house and knew Jason lived there. Shenandoah is a very small town. Colin says Hayes takes Brandon back to the crime scene while Derrick's mother ices his swollen knuckles. Colin says Brandon later calls from the crime scene and tells Colin that he told the cops only about the second part of the fight and said it was started by Luis. He adds that he left out the part about the kick.
So then the group gathered in the garage discusses how to square their stories with what Brandon has said. Colin testifies that Derrick and Brandon's mothers are there. Colin testifies that Tammy Piekarsky tells them that she has talked to Jason and "that this guy had to get life-flighted, and he probably won't make it and, if he dies, it's homicide so get your story straight."
Tammy Piekarsky has never spoken to the press about the case, nor has Jason Hayes. The fraternal organization that represents him did not return our calls. What the jury did not hear was how closely this scenario resembles the account of Eileen Burke. Eileen says she tried repeatedly to testify, even cutting short a vacation she took to get away from living in front of the scene of a homicide. She says the prosecutors kept putting her off. There was no testimony from Shenandoah police officers, either, but there were ominous references to witnesses being called in another case and reporters speculated that a grand jury might be hearing evidence in a case against the police for misconduct. The police officers who investigated Luis' death have refused to speak to reporters. The Shenandoah police chief said his town is so small that his officers frequently know the people involved in incidents they investigate. There is no way to avoid it. He said his department monitors investigations to make sure there is no bias and that this case was handled appropriately.
The trial was thrown another wrench when Roxanne Rector testified for the prosecution in a high, birdlike voice that she was uncertain which of the teenagers had delivered the fatal kicks. She looked distraught on the stand, maybe even scared, according to the CNN staff who watched the trial unfold. Roxanne, who is 15, affirmed the public defense that Luis was behaving inappropriately, secretly having sex with her and was planning to marry her instead of Crystal. After that testimony, the press stopped referring to Crystal as Luis' fiancée. She became the mother of his children and Roxanne became the fiancée.
Crystal was not in court that day, quite deliberately. The rumors that Roxanne and Luis had something going on had filled the town shortly after the confrontation. She said her mother disliked Luis and was taunted in the town after the attack. She believes her mother had pressed Roxanne to confirm the story. Crystal said she does not believe it's possible Luis and Roxanne could have had any kind of sexual relationship. There were not enough hours in the day, and the night of the attack he'd called her several times to say he was walking Roxanne over to Crystal's house.
"I know the truth and Roxanne knows the truth," Crystal said. "They acted like it was weird they were hanging out because he's 25 and she's 13, so he's some kind of pervert and she's this Mexican-loving whore. All of that is hanging on her. Why? Because she witnessed a crime. Her friends treat her differently. It bothers her. She looks so sad. She knew this would happen."
Several times, she repeats that she doesn't know what Roxanne said because she didn't attend the trial that day, even though she knows her testimony was widely reported. She clearly has doubts.
"What difference does it make? That makes it OK to kill him? They didn't even know him. They didn't know her," she says.
The story line that Luis was being punished for messing with an underage white girl was established in the minds of anti-immigration activists. Shortly after the attack, a newsletter called the "Minuteman's Militia," published by a group of border vigilantes, described the defendants as "teenagers who were apparently compelled to shield the 15-year-old female about to be violated." Copies of the newsletter were distributed at the courthouse after Roxanne testified. The testimony was supposed to speak to Roxanne's credibility, according to the judge, not try to suggest that the attack might be defensible if the teenagers were out to punish Luis for doing something wrong. But the effect of this story line was undeniable.
The facts just became more convoluted. Gladys Limon describes the situation. "Crystal was extremely upset by that testimony. She loves her sister and is taking care of her. She doesn't think it's humanly possible for Luis to have been two-timing her with her sister when he worked such long hours and had two children with her that he was racing home to see. It really messed with her head. But in any case it was so irrelevant. Say the guy was doing something that weird, they are going to kill him to punish him for that?" asked Limon.
At some point, Limon said, the prosecutor had offered to end the drama with a plea bargain that would have allowed the teenagers to spend just a few months in jail. One of the principals in the case was a part-time assistant district attorney named Rob Franz, whose wife, Sophie, is Mexican. He has salt-and-pepper hair closely cut around his forehead, and often has a shadow of a mustache, which makes him look gritty even in the dark black suits he often wore to the trial. Limon says Franz told her he had made a personal commitment to get justice for Luis, but she initially refused to even pass along the offer to Luis' mother. When it came time for Franz to call, he needed a translator, so she joined him on the call.
"He told this kid's mother he was doing everything to get justice but didn't even mention that the plea would mean these kids who killed him would be in jail for like three months," recalls Limon. She remembers this long silence before Elisa Zavala, Luis' mother, just began repeating over and over again: "Esto no está bien. No está bien. No. No. Mi hijo se murió." This wasn't right. Her son was dead. So the case pressed on.
MALDEF discovered a picture on Facebook of Donchak at a Halloween party after Luis' death. He was wearing a shirt with an emblem on it that said "Border Patrol." Limon says she fought with the prosecutors to use it and they eventually did. But, she says, they were afraid to humanize Luis because it would leave them open to questions about his character. "The accused were referred to as 'boys' even by the prosecution and no one even mentioned that Luis was a human being with small children," she said.
In a wood-paneled room next door to the courtroom, about a half dozen local reporters filed stories each day chronicling the testimony. John Moser, a buttoned-down reporter with a square little mustache, reported the unraveling of the tight clique of teenagers for the Allentown Morning Call, one of the larger area newspapers. Four of the six teenagers testified at the trial, including the two teenagers not charged. The only place where their testimony was consistent was in confirming that all the teenagers, football players from Shenandoah Valley High School, were walking home from a block party and had been drinking when they came across Luis. There was testimony Luis had called several friends on his cell phone to ask for help with what was obviously going to be a fight. But there was a lot of finger-pointing among friends as to everything else.
By the time everything landed in court, the boys were barely looking at each other. The lawyers had presented conflicting accounts. Prosecutors said Donchak pummeled Luis holding a small piece of metal in his hand, while his attorneys said he was breaking up the fight. Scully said he'd used obscenities and told Luis to "go back to Mexico," which enraged him. But Walsh said Luis also said something in Spanish that they didn't understand. According to the Morning Call, he also said the officers at the scene included Bill Moyer, whose son, the paper said, played football with the defendants.
By the time the case was wrapping up, the defense attorneys told jurors that the teenagers, "Divs," or Blue Devils, as they are called after the high school's mascot, were all saying whatever they needed to say to look innocent. What was in the papers was almost as important as what was being said in court. In a town where everyone has some connection to the school or the police officers, friendships and alliances were redrawn by this trial.
Gladys Limon said the prosecution seemed less than enthusiastic and noted that the local district attorney had to face an election that year. She said the absence of police witnesses was critical and noted that the one objective witness, Eileen, was not at the trial. She was visibly worried. The defense argued that this was a teenage brawl and nothing more. The prosecution kept pointing to the medical examiner's report as evidence of the ferocity of the attack, while noting that the six teens were not injured at all. Testimony was allowed about Luis calling friends to ask for help but none had arrived in time to intervene. This was six against one, if it was a fight. During his closing, prosecutor Franz showed jurors a picture of a fresh-faced Luis and the picture of Donchak in the shirt with the emblem saying "Border Patrol." There was no mention of Crystal and her children after the Roxanne testimony, even as she sat in the audience every day.
Jeffrey Markosky, Derrick's lawyer, began his closing arguments by declaring that the case boiled down to the credibility of the witnesses. The only credible descriptions, he says, are of a fight, not an attack.
"This case is not based upon racial hatred," he told the jurors. "This was a fight that developed spontaneously from the words that were being said at the scene," he said. The Halloween photo should be disregarded. "T-shirts are not evidence of crimes," he said.
Frederick Fanelli, Brandon's attorney, attacked the teenage witnesses head-on: "The problem here is that when each of these three kids sing from the same hymn book, now I decided to tell the truth, the problem is even after they made that they had this epiphany that they're going to tell the truth after they've been rolled, they continue to lie . . . if you believe that any of these kids lied on any detail, you're free to disregard all their testimony. That's based on human experience. If you lie about the little stuff, you'll lie about the big stuff."
The prosecution's closing fell to Rob Franz. Franz told us he is a partner at a local firm that does workers' compensation cases. For 13 years, he has also been a part-time prosecutor. At one point, he did defense work, too. He is 38 years old and is a lifelong resident of the area, with a wife and children in the community.
"We are not out to take the boys down," he assured them before making his case. "We are not out to make an arrest at all costs." There was a reason that the medical examiner ruled this case a homicide, he said. "He was badly beaten. His skull was fractured in two spots. Fractured in two spots. Two injuries. And all three doctors gave consistent testimony that his brain was obliterated. And it wasn't just from one fall. It was from a direct impact to the left side of his head as well that took out, not just the front of his brain, but the whole left side of the brain."
There had been a lot of distracting testimony that he had to deal with. Arielle and Roxanne had both thrown wrenches into the trial because they were unsure who had been the kicker. The defense had harped on the fact that Luis called for help and that Arielle and Victor had another friend with a BB gun who had arrived at the scene of the attack. But keep in mind, he told jurors, that no one had been there in time to intervene. And after Luis lay in the street, the boys were gone, only to reappear at a friend's house to get their story straight with friendly police officers. Everyone was worrying about themselves as Luis' "head was split open. It was necrotic. And he proceeded to a brain death. That's the loser. That's the person who was assaulted. The boys had not one injury except for Derrick Donchak. And where was his injury? In his right hand, where he held a piece of metal and beat Luis Ramirez in the face. ... This fight, if it was a fight, it wasn't fair. This assault, this fight, unfair fight, went too far."
The case went to the jury on May Day, which has become associated with pro-immigration rallies and protests. The teenagers' parents wouldn't talk to any of the 15 reporters from the local newspapers and television stations that sat in the courtroom to await the verdict. They just paced and smoked and greeted the teenagers who came to show their support. Annette Holopirek, an alternate juror, was released after hearing the judge explain the charges and rushed out with a pained look on her face.
"He should not have worn that T-shirt," she said of Donchak's Border Patrol shirt. "I think there is guilt involved. That to me is a big ethnic intimidation." But Holopirek has a 16-year-old son who plays football. "If that was my son up there I would have been scared for him," she said.
Crystal went home at 9 o'clock to put her kids to bed. "I had a feeling they would be found not guilty."
The verdict came down after seven hours and 40 minutes of deliberations. The jury had asked a few technical questions and, even though it was past 10 p.m., the judge kept everyone in the courtroom as anticipation was building. The young men, who'd been playing Uno with a crowd of teenagers outside, sat silently in their suits at the end, Donchak's leg bouncing nervously. Their parents, eyes red and grasping each other's hands, sat behind them. The room was divided roughly into three camps. The press all sat together watching on one side. The teenagers' supporters filled the center. On the other side were just three people: the MALDEF attorney, a Philadelphia lawyer who had come to keep her company, and Enrique Luis Sanchez, the representative from the Mexican consulate.
When the verdicts were read, they came in waves. "Not Guilty." "Not Guilty." "Not Guilty." By the time the third "Not Guilty" had been read the courtroom had erupted in cheers and the MALDEF lawyer was crying silently. The noise was almost too loud for the crowd to hear the teenagers convicted of simple assault charges and corrupting minors by giving them alcohol. The court officers stopped the parents from rushing forward to embrace their sons. Limon ran out with her cell phone to call Luis' mother in Mexico and Crystal. She shook as she recounted to reporters what she said.
"I had to just tell them that the teenagers who did this will not even have their lives interrupted by the consequences of what they've done." As reporters asked her more questions, her phone rang. Crystal was at home, trapped there because her children were sleeping, and she was losing her mind with rage. "She just kept asking me why they had chosen to do this," Limon said. "She kept remembering all the details of what had happened."
Crystal boiled with rage that the jury had not gotten to hear much about Luis.
"He was a good husband and a good father. He worked two jobs to take care of his children and his family. He was proud. He was standing up for himself because he didn't think it was OK for people to talk bad. He had an appointment for the week after he died to get his papers together so we could marry and he would become legal and give his children a better life than the one he had growing up. He worked very hard for what he had."
Gladys Limon found her way to the lobby of the courthouse, where cameras awaited in a restricted zone surrounded by tiny American flags and the offices of the prosecutors, who paced the halls nervously.
"I don't know if there will be federal charges," said District Attorney James Goodman. "Who knows?" Rob Franz said he couldn't talk about the case because "there is still some activity." He says he doesn't rate his own performance as a prosecutor but he did the best he could.
Gladys Limon spoke haltingly outside the DA's office: "Community leaders need to search their hearts and educate people in their homes and in their schools and make meaningful efforts to embrace diversity. ... A message has been sent that you can kill a person, you can kick and stomp their head until they die and your life will not be interrupted because that person is less than a human. I know there are a lot of good people in this community but it is astounding to me that there is a segment of this community that is glorifying and cheering these defendants for having beaten a man to death."
Jury foreman Eric Macklin told reporters he was the lone holdout when the jury voted 11 to one for acquittal at 5 p.m., after deliberating for two hours.
"I think it's absolutely horrible what happened to Luis Ramirez," Macklin said. "I was very, very close to finding them both guilty on every serious count, but due to the evidence presented, I was not sure beyond a reasonable doubt. I do believe that all four teenagers involved are racists."
Crystal locked her doors and stayed inside while all this played out. Friends called to warn her that people were driving through the town honking their horns and cheering, something that was later reported by the local papers. A few months before, someone had thrown a water bottle at her youngest son, nearly hitting him. She had seen people with T-shirts that said, "F*** You Crystal. Your Day is Coming." She had seen the teenagers around town many times. She was frightened.
After she got off the phone with Luis' mother, Gladys Limon could barely hold back her tears.
"How can I explain that her son was beaten so badly his brains fell out of his head and that the people who did this are guilty of nothing more than being involved in a fight. ..."
Before she had finished, a wave of people raced down the stairs accompanying the teenagers and their families. Their attorneys stopped to tell reporters that they were too tired to say anything except to reiterate that they believed this was a fight gone bad and that they had won their case. But the crowds pumped their fists and shouted as they emerged into the night. "No comment," several yelled. "Don't say a thing." Others said simply, "Shenandoah got it right." The town was quiet that night, save a few horns being honked on Main Street.
Eileen Burke was at home when she got the call. "I couldn't breathe," she said.
"There is nothing worse than seeing someone die. They're supposed to be honor students and they killed him like an animal ... I couldn't believe it."
She said her neighbors told her it was OK because he was not legally in the United States. Eileen had never thought about immigration issues before but she was shocked at what she was hearing in her own town.
"This is the 21st century. I knew this was very political. I think there was a police conspiracy. ... They just didn't see him as human and they saw the boys as their boys."
In the days that followed, her car would be egged. When people went by to leave rosaries and candles at the scene of the attack, someone would pull them off the sidewalk in front of her house. She barely goes out. She dreads running into Crystal and the kids.
"They are 2 and 4 . When they are 22 and 24 and these punks are in their 40s, I can't even think about it. I am sick for them. I can't step outside my house. I can't sleep. I can't stop thinking about their father lying on the street like an animal," she said. Her voice rattles when she talks, like a person in the middle of a nightmare. She cries easily. How can she walk out her door every day and see the spot where she saw a man die? she asks.
"No one will be punished for this?" she asks no one in particular. "How can that be?"
Crystal would later make plans to leave town altogether. "They don't want change in this town. They want to live back in the day when this town had one race. It's all about the color of their skin. They are focused on the Mexican. There are Puerto Ricans in this town [U.S. citizens], but if they're brown, they're brown. I need my kids to grow up in a place where they are proud of who they are, a place where there is diversity and people respect themselves and others," she said. She said it will be hard to go anyplace because she will miss her sisters and she has not been able to get a job. While her children were born in the United States, they cannot receive Social Security death benefits for survivors because their father was not here legally.
Gladys Limon drove into the fog for two hours to get back to her sister's house in New Jersey, even though it was well past midnight. She just wanted to leave Shenandoah for now. Crystal called her as late as 1 a.m.
"There has been this national campaign that has cast Mexicans like me as these social pariahs," she said as she drove. "I wonder sometimes how it has reached a place this remote." Hazleton flew by in the night.
"In bad economic times, immigrants always get cast as targets. There have been bad times here for a while. When people are fearful or threatened they have to affirm their identity, their own patriotism. This is a post-9/11 world and we only have this one big border to protect. The Latino community is very visible because of the sectors in which we work. We are the gardeners, we take care of children. We are in a vulnerable situation."
Crystal's front window looks out onto the street where Luis died. She knows all about being vulnerable. She is white but her children are Latino, and she wonders how she will look out the window with them and tell them how to live in this atmosphere.
"How can I explain to my children that their father was beaten to death because of the color of his skin? When I leave, the only people I will talk to here are my sisters and the people who supported me. Latinos here have been very supportive."
Gladys Limon's parents are Mexican immigrants, just like a lot of the people in that town. She went to Stanford. She laments that Mexicans like her are not more visible so people can see some of the complexity of the community.
"The whole debate has become about an issue, not about the people. You look at Shenandoah and the trial and it was the same way. You barely heard about this person who died," she says as she drives rapidly away from Shenandoah, eager to see her own family and return to the West Coast.
"This trial had nothing to do with immigration. The problems in this community, the hatred, are so beyond that. Shenandoah is a town of immigrants. There are Latinos there who are not even immigrants. ..."
Then the phone rings. It is Crystal calling again. Limon urges her to call the police if anything happens that scares her, or to at least call her back.
"That girl has to move out of there. She has to go someplace where she can build a new life in another community. It's just not her community anymore," she said and continued driving into the milky darkness.
Back in Guanajato, Mexico, Luis Ramirez's mother would spend weeks writing a letter to the judge who would be sentencing the boys who attacked her son. Elisa Zavala wanted them to know that Luis Eduardo, as she called him, had supported her family ever since he was a boy. When they were short of money, she recalled that even as a little boy he would "run and get his piggy bank and hand it to me." Elisa didn't want her son to move to the United States but he wanted to earn more money and help his family.
"He worked in a potato factory, in a mattress factory, in a nursery, in construction and picking cherries. He always worked two jobs. He was my sole means of economic support. My family is doing very badly now without him."
She wanted the judge to know that the economic impact of losing Luis' income was only one small way the family had been affected by his loss. In her letter she sounds desperate and confused.
"Since he died I don't sleep. I cry easily and I'm depressed. I can't concentrate. I feel homeless. I only want to be alone because that's how I feel inside. I don't want the mothers of these boys to ever feel as badly as I feel because this pain is so great and this wound will never disappear from my life."
Elisa tells the judge she thinks these young men don't appreciate the consequences of their actions and worries about the message it will send to American society if they are not punished.
"There are moments when I ask myself how can I live without my son? I am no one without him. I worry that if Scully and the other boys don't get the sentence they deserve they could do the same thing to other people knowing that there would be no consequences.
"I don't understand how these kids can be so at ease with what they have done. They didn't kill an animal to feel so at ease with themselves. They killed a human being who was my son. I believe no one deserves to die like this simply because he was Mexican."