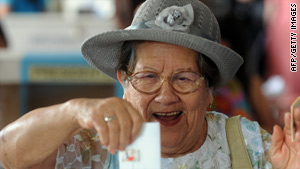 A woman casts her vote in Chile's presidential election Sunday in Santiago.
STORY HIGHLIGHTS
NEW: Sebastian Pinera, Eduardo Frei will face off in a runoff in Chile's presidential election
NEW: With over 98 percent of polling stations counted, Pinera held 44 % of vote to Frei's 30%
NEW: Enriquez-Ominami got 20 percent of the vote, splitting votes for ruling party
Candidate Jorge Arrate of the Communist Party, garnered 6 percent of Sunday's vote
(CNN) -- A conservative billionaire businessman and a former center-left president will face off in a runoff election in Chile's presidential race, based on official early results released Sunday.
With more than 98 percent of polling stations counted, billionaire businessman Sebastian Pinera led ex-president Eduardo Frei with 44 percent of the vote to Frei's 30 percent, Chile's interior ministry reported.
"This is a victory for all the Chileans who want change," Pinera said Sunday night.
Frei began campaigning for the second-round immediately, asking in a speech for the supporters of the two other candidates who had their presidential ambitions dashed to join his cause.
Frei said if he is elected, women and young people will have an important role in his government.
He explicitly asked for those who voted for Marco Enriquez-Ominami and Jorge Arrate, who were eliminated in Sunday's ballot, to vote for him in the runoff.
In a concession speech, Enriquez-Ominami said that he would not endorse either candidate.
The winner will follow the footsteps of a very popular president, Michelle Bachelet, who will be leaving office with high approval ratings for steering the country through the global economic downturn, and promoting progressive social reforms. Under Chile's constitutional term limits, a president cannot run for a second consecutive term.
Bachelet endorsed Frei, a member of her same left-leaning coalition, but another leftist candidate who ran as an independent -- Enriquez-Ominami -- made an impressive run, pulling in 20 percent of the vote and splitting votes for the ruling party.
Those who voted for him, "have affirmed the desire for Chile to move forward and toward the future," he said.
If Pinera triumphs in the expected January runoff election, it would mark the first time since the fall of the Augusto Pinochet dictatorship that a conservative wins at the polls. In the 19 years since Pinochet's fall, all the presidents have come from the left-leaning coalition.
Pinera, 60, is one of the country's wealthiest businessmen who previously served as a senator and president of the National Renovation party.
Since completing one term as president, Frei returned to politics as a Christian Democrat senator who has campaigned on continuing Bachelet's policies.
While Frei and Pinera were household names before the election, it was the 36-year-old Enriquez-Ominami who made a political name for himself in this presidential election.
He worked as a television director before being elected as a congressman for the Socialist party in 2005. The son of a guerrilla leader from the 1970s, Enriquez-Ominami forged his own political path, breaking from the leftist coalition and running on his own.
A fourth candidate, Arrate of the Communist Party, garnered 6 percent of Sunday's vote, according to the early vote figures.